PETA Gets Bieber Fever!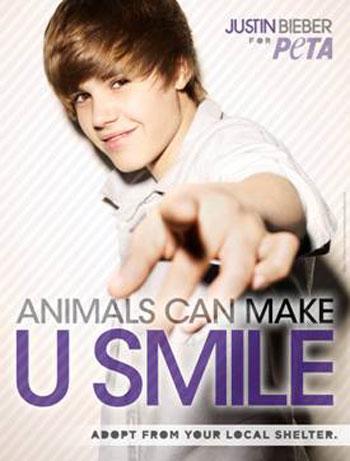 Even our four-legged friends aren't immune to Bieber Fever!
Pop sensation Justin Bieber is pledging his support and his huge fan following to PETA in a heart-warming video to promote pet adoption, and RadarOnline.com has all the details.
The young heartthrob appears in a PSA that encourages people to get animals from shelters instead of breeders, puppy mills or pet stores. Alongside Justin's pretty face on the campaign poster is the important message: "Animals Can Make U Smile. Adopt From Your Local Shelter."
Article continues below advertisement
EXCLUSIVE: Justin Bieber Plans To Open Up Some Kardashian-Like Store
Bieber is a self-confessed animal lover who dotes on his pet dog, a Papillon named Sam who he got from a shelter, and this is the second PETA campaign that the Grammy-nominated teen has released.
"I really encourage going out to an animal shelter or a place where you can get a dog that has been abandoned or doesn't have a home," explains Justin. "My Dad and I used to go and hang out (at shelters) just go and visit the different animals and stuff."