Miley Cyrus Says Goodbye To Hannah Montana - Last Episode Airs Sunday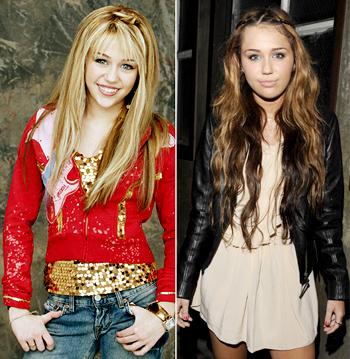 Miley Cyrus' TV series Hannah Montana is calling it a wrap, RadarOnline.com can report. The final episode airs Sunday.
The highly successful Disney Channel series first aired on March 24, 2006. The show focuses on a girl who lives a double life as a typical teenager by day and a famous pop singer by night. In the show, Cyrus hid her real identity from the public, other than her close friends and family.
Article continues below advertisement
It would be this TV series that catapulted Cyrus into an international teen icon who sold millions of albums and concert tickets and millions of dollars worth of merchandise.
As Hannah grew up on the screen, so did Miley off-camera, and she's been caught in a series of scandals in the five years.
She posed topless for Vanity Fair, dated a much older boy, performed in increasingly erotic music videos, simulated kissing her female dancers on stage, and seemed to enjoy getting 'caught on camera' mugging with her friends in sexy poses and smoking salvia from a bong.
Miley turned 18 November 23 and is now splitting her career between music and movies.
In the last episode titled "Wherever I Go," Cyrus is called upon to make the biggest decision of her life -- whether to go to college, or to accept a role in a movie.
The final episode of Hannah Montana Forever (as this final season was called) airs Sunday at 7 p.m. ET on the Disney Channel.
RELATED STORIES:
EXCLUSIVE INTERVIEW & PHOTOS: Miley Cyrus Was A Real Life 'Mean Girl' In School, Says Childhood Pal