Kim Kardashian Blames 'Teen Mom' For Memphis Pregnancy Epidemic, Says It's 'Disturbing'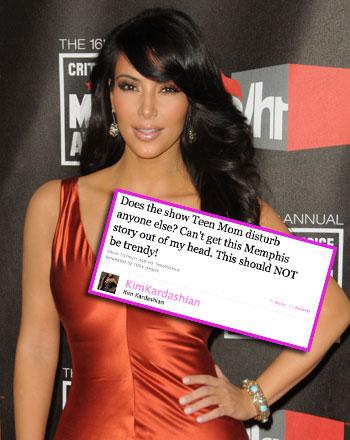 Kim Kardashian is blaming MTV's popular Teen Mom reality television show for the teen pregnancy epidemic that has plagued a high school in Memphis, Tennessee.
The socialite took to Twitter on Wednesday and called the program "disturbing" and warned followers that teen pregnany should not be considered "trendy".
"Does the show Teen Mom disturb anyone else?," she wrote. "Can't get this Memphis story out of my head. This should NOT be
Article continues below advertisement
trendy!"
A teen pregnancy epidemic has plagued Frayser High School where ninety students are currently pregnant or have already had a baby this year, according to a report from WMC-TV 5 in Memphis.
According to Kim, the show that has turned Amber Portwood into a celebrity, encourages such behavior.
"I just couldn't believe this and I find it so sad and disturbing," Kim wrote.
"It seems that shows like Teen Mom are all of a sudden making teen pregnancy seem cool in the eyes of young girls. The kids from these shows are all over the news, even on the covers of magazines, and have been become almost like celebrities, but girls, these are not people you should idolize!"
"When I think back to when I was 16, there is no way I would even have considered having a baby. That thought wouldn't even have entered my head. Having a baby is one one of the biggest, and most life-changing decisions a person can make and while I'm not saying that no teen is in the position to raise a child, having a baby so young shouldn't be seen as the trendy thing to do."
Kim even offered some sound advice for young teens who are sexually active and considering having children.
Article continues below advertisement
"Girls, please, think very carefully before you make these kind of decisions," Kim writes.
"Talk to your family, friends, teachers, and most of all, be careful."
Despite Kim's stance, the National Campaign to Prevent Teen and Unplanned Pregnancy suggest Teen Mom does the opposite, with 82-percent of teens saying the show helped them understand the challenges of pregnancy and parenthood and why they should avoid it.