Jon Hamm, Sofia Vergara Among Critics' Choice Presenters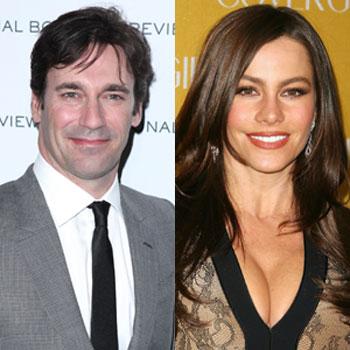 Two of TV's hottest stars, Mad Men's Jon Hamm and Modern Family's Sofia Vergara, are among the Hollywood royalty that will present at this month's upcoming 16th annual Critics' Choice Movie Awards, RadarOnline.com has learned.
Others that will be presenting at the show include: Hank Azaria, Josh Brolin, Jesse Eisenberg, Ed Helms, Rob Huebel, Greg Kinnear, Jennifer Lawrence, Julianne Moore, the Kardashian sisters, Joan Rivers, Tim Roth, Paul Scheer, Arnold Schwarzenegger, Sarah Silverman, Kevin Spacey and Emma Stone.
Article continues below advertisement
Click Here To See The Best Dressed Stars Of 2010
In addition, iconic director Quentin Tarantino and accomplished actor Matt Damon will be honored at the ceremony with awards for their fields, which Emily Blunt and Jimmy Kimmel will present, respectively.
The Critics' Choice Movie Awards airs from the Hollywood Palladium live on VH1, January 14 at 9/8c.
RELATED LINKS: