EXCLUSIVE: Vivica Fox -- Engaged And Ready To Start A Family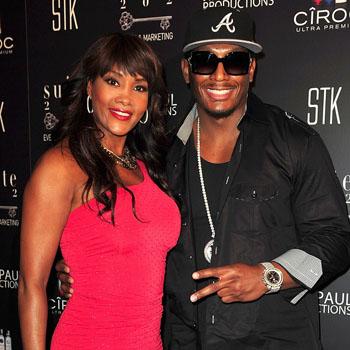 Vivica A. Fox wants to try and have a baby with her new fiancé Omar 'Slim' White as soon as possible, RadarOnline.com can reveal.
The Cougar reality star became engaged to the Atlanta club promoter over the holidays after he bought her an eight carat diamond ring and popped the question while the couple was vacationing in South Beach.
And despite being 46-years-old, the popular actress wants to try for a family with the new man in her life.
Article continues below advertisement
A source told RadarOnline.com: "Vivica desperately wants children by Omar even although she knows the clock is ticking – she has everything in her life but kids would make it complete.
"She never had any children with her first husband Christopher Harvest during their four year marriage and she wants to make up for that with Omar.
"Vivica is thrilled with her engagement to him and she wants them to start trying as soon as possible. She intends to spend more time in Atlanta in 2011 where he is based as a club promoter.
"Omar wants Vivica to be happy and also wants to have kids with her too."
The couple has been dating for more than one year and despite their 19-year age difference, they share common interests in music and keep fit.
The Kill Bill star previously told RadarOnline.com that it was totally okay for older women to date younger guys.
And she offered advice to fellow Cougars by saying: "My first tip is: please make sure that you're not a sugar mama - that changes the dynamic of any relationship. Even if he's younger than you, you need to feel equal.