Exclusive
EXCLUSIVE PHOTOS: Stunning Suzanne Somers Turns Heads As She Arrives For Civil Trial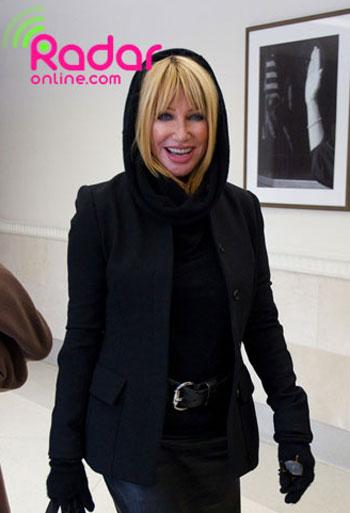 Suzanne Somers was all smiles as she arrived for her civil trial at a Lexington, Kentucky courthouse on Monday and RadarOnline.com has the exclusively photos.
The fitness legend, along with her lawyers, appeared at the Fayette County Circuit Court where she is facing accusations off ripping off investors in a failed business venture.
Stylishly dressed in a black hooded sweater, skirt and knee-high boots, Somers tuned heads as she made her way through the courthouse halls with her trademark blond hair and confident smile.
Article continues below advertisement
RadarOnline.com broke the news that in 2006, the former Three's Company star and former Kentucky Gov. John Y. Brown planned to open a chain of stores called "Suzanne's Kitchen" that would "prepare and sell home cooked meals."
LEGAL DOCUMENTS: Read The Case Against Suzanne Somers Here
The two raised about $1 million to get the project off the ground, with $400,000 of it coming from John Shannon Bouchillon.
Bouchillon has since sued them both. He claims that unknown to him at the time he made his investment, Somers and Brown didn't have a formal a business agreement, and that they constantly fought, unable to agree on anything. Bouchillon's lawsuit maintains that the fights between Somers and Brown led to the project collapsing shortly after the first store opened in Lexington, Kentucky.
"At the time of his investment, it was misrepresented to my client that there was an operating agreement and a licensing agreement between the Governor and Suzanne Somers," Bouchillon's attorney Craig Robertson tells RadarOnline.com exclusively.
Article continues below advertisement
"They took in money from investors and even opened that first store without telling their investors of their intense disagreements. Of course, none of their own money was at risk."
For two years, Somers has been fighting the suit, trying to get it dismissed but to no avail.
The trial is now underway.
Stay with RadarOnline.com for more on this developing story.
RELATED STORIES: