EXCLUSIVE: Lindsay's Unlikely New Ally: Fired Betty Ford Worker Says She Didn't Violate Probation, Releases Statement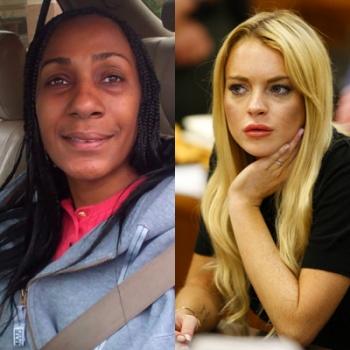 Lindsay Lohan has the most unlikely ally as she faces a return to jail for multiple probation violations -- the fired Betty Ford worker who claimed the wild child actress was drinking before she threw a phone at her.
Dawn Holland, who worked as a chemical dependency technician until she was fired for breaching Lohan's medical confidentiality, is sensationally retreating from the charges she made in a cash-for-comment scandal, RadarOnline.com has exclusively learned.
Article continues below advertisement
NEW VIDEO: Lindsay Out In L.A. Tuesday
Holland had accused an "out of control" Lohan of throwing a phone at her after being caught allegedly drinking and violating curfew — which lead the Palm Desert Police Department to find the 24-year-old breached probation during the December 12 altercation.
But in a new statement, obtained by RadarOnline.com, Holland's attorney Keith Davidson said "the recent reports of criminality and probation violations are much adieu (sic) about nothing". (Note to Keith: Adieu is French for farewell. You meant ado!)
Holland's entire statement reads as follows:
"It is important to note that it was Ms. Lohan, and not Ms. Holland who called 911 on December 12th. Had Ms. Lohan not called 911 – this incident never would've been public knowledge, let alone criminally investigated.
"Ms Holland has long held that recovery is not always a pretty process and the workings of a recovery center have never been for the faint of heart. As a recovering addict herself, Ms. Holland is proud of Lindsay for making the always difficult voyage toward recovery.
Article continues below advertisement
"Had the interaction between these two ladies occurred in front of a police officer anywhere in this Country, no probation would've been violated, no arrests would've been made and certainly no criminal charges would have been filed. The recent reports of criminality and probation violations are much adieu about nothing."
As RadarOnline.com first reported, Holland earlier dropped the charges of battery against Lohan and Davidson said "nor will she be assisting any further in the investigation or prosecution".
However, the Los Angeles County Probation Department and a Beverly Hills judge could still find that the troubled star violated probation.
In a statement to RadarOnline.com, Lindsay's powerhouse attorney Shawn Chapman Holley says, "I had numerous conversations with Betty Ford counselors and doctors over the course of Lindsay's treatment there and it was never suggested by anyone that she ever drank or used drugs. Her discharge letter from the facility is totally consistent with that."