Exclusive
EXCLUSIVE INTERVIEW: Lindsay Won't Sue Or Seek Charges Against Fired Betty Ford Worker, Says Dina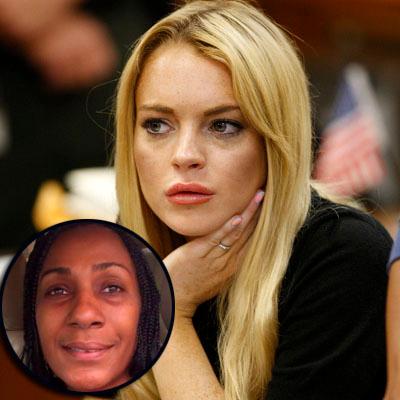 Lindsay Lohan won't sue or seek the criminal prosecution of the ex-Betty Ford staffer who claimed the Mean Girls star assaulted her last month, and then divulged confidential medical information in a cash-for-comment scandal, RadarOnline.com has exclusively learned.
NEW VIDEO: Lindsay Out In L.A. Tuesday
The actress' mom, Dina, told RadarOnline.com she is satisfied Dawn Holland's only punishment was being fired from her role as a chemical dependency tech, which paid $1,784.74 a month.
Article continues below advertisement
EXCLUSIVE VIDEO: Lindsay Lohan Surfaces At Los Angeles Hotel – Hugs Jamie Lee Curtis
Holland had accused Lohan of throwing a phone at her after being caught allegedly drinking and violating curfew -- a charge the starlet has denied.
"I am not considering prosecuting this woman because Betty Ford was great to Lindsay," Dina told RadarOnline.com in an exclusive new interview.
"They did the right thing, they let her (Holland) go immediately."
Holland has also dropped the charges of battery against Lohan, although the Los Angeles County Probation Department and a Beverly Hills judge could still find that the troubled star violated probation.
For its part, Sheriff's investigators want Lohan charged.
A riverside sheriff's sergeant said Tuesday a two-week investigation found Lohan, 24, violated her probation during the December 12 altercation with Holland.
Article continues below advertisement
Lohan returned to the center after curfew and refused Holland's request to take an immediate Breathalyzer test.
She is accused of pushing Holland and Lohan ripped the phone away and injured the woman's wrist.
EXCLUSIVE: Lindsay Lohan Released From Rehab
But, speaking exclusively to RadarOnline.com, Dina said: "She (Holland) has her own past in rehab and she needs to deal with that."
As we were first to report, Holland also faces her own criminal case after a lawyer for the Betty Ford Center contacted the Attorney General's office, reporting a possible violation on patient confidentiality as is required under law.