Exclusive
EXCLUSIVE: Lindsay $25k Payoff Not A 'Deal' -- Just An 'Idea,' Claims Source Close To Dawn Holland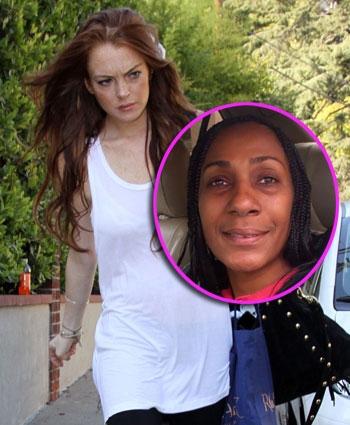 A plan to pay Lindsay Lohan's accuser $25,000 was not a "deal" but just an "idea" a source close to Dawn Holland claimed RadarOnline.com exclusively as sensational accusations exploded in the case.
We broke the story that the fired Betty Ford Center worker secretly cut a $25,000 agreement with the Hollywood actress' camp after refusing to cooperate with police in a probe against her. Holland accused Lindsay of attacking her.
Article continues below advertisement
Holland and her lawyer Keith Davidson parted ways on Thursday, with Holland's camp claiming she fired him -- but Davidson saying the parting was mutual.
RadarOnline.com has learned exclusively that Holland has now hired attorney Owen Latham McIntosh.
A source close to Holland is now seeking to defuse the potentially explosive scandal, insisting that she never had a deal with Lohan.
But the source did confirm that there was talk of sitting down with the 24-year-old actress and "spinning off the pictures from that" -- a clear reference to payment.
"There was never even a deal set in place to begin with; it was an idea," the Holland source told RadarOnline.com exclusively.
"There was no deal. It was never brought to Dawn. She never got any friggin' specifics, that's the problem. That is the problem that is the issue here. That is why she sought another attorney."
But then the source admitted that Holland did discuss a payment idea with Davidson, saying: "In the very beginning Keith advised her to drop the charges, he said to her, 'If you drop the charges then maybe we can possibly get together, do a sit down, maybe you guys can do lunch, and spin off the pictures from that.'"
Article continues below advertisement
The original source told RadarOnline.com that Dawn wanted the $25,000 paid upfront but that was unacceptable to Lohan's camp.
"The parties then agreed, in principle, for Lindsay to participate in a sit-down television interview with Dawn," the Lohan source told RadarOnline.com.
"The plan was for Dawn's camp to shop the interview to various media outlets."
Told by RadarOnline.com that someone close to Holland denies she was aware of the $25,000 offer, the original source said that simply was untrue. Holland was indeed aware.
Holland hasn't received "a dime," the source close to her told us and she is broke because the Betty Ford Center is withholding workman's comp, she claims.
(The Lohan camp source agrees that Holland was not paid.)
The Holland camp source revealed Holland and Davidson were trying to get money out of Lohan after telling police they would not cooperate with the criminal investigation. "What he (Davidson) told Dawn was that they were working on the civil suit against Lindsay Lohan and that is all," the source said. "And every time she kept trying to call him back to find out what was going on with it all he would ever say to her is 'I'm working on it, I'm working on it.'
Article continues below advertisement
"That's one of the reasons why she fired him. All she kept getting from her attorney was, 'I'm working on it,'"
A source close to Davidson told RadarOnline.com that the lawyer "parted ways" with Holland on Wednesday and then the relationship was briefly repaired. But on Thursday Davidson called Holland, who handed the phone to her new lawyer who said Davidson's services would no longer be needed.
RELATED STORIES: