EXCLUSIVE: Investigators Show Up At Home Of Fired Betty Ford Worker; She Refuses To Cooperate In Lindsay Incident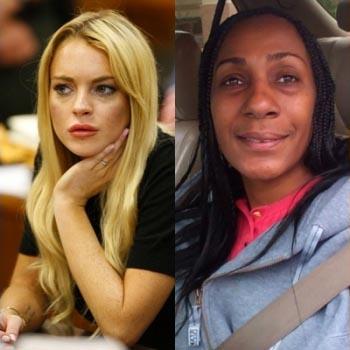 Investigators with the Riverside District Attorney's Office showed up Thursday morning at the home of fired Betty Ford worker Dawn Holland, but she is refusing to talk to them about her scuffle with Lindsay Lohan, RadarOnline.com has exclusively learned.
The Palm Desert Police Department had reached out to Holland earlier this week, hoping to interview her in connection with the battery investigation involving the troubled actress, but Holland declined to cooperate with authorities.
Article continues below advertisement
Holland spoke to authorities on the night of the incident and filed a police report related to the scuffle at the Betty Ford Center where Lindsay had been receiving treatment.
Since that time, Holland has not spoken to police again.
Following the incident, Holland was fired from the famous facility for selling confidential medical information about the Mean Girls star to the website TMZ.
After her firing, Dawn said she would no longer cooperate with the investigation involving Lindsay. A source with knowledge of the situation tells RadarOnline.com: "The Palm Desert Police Department and the Riverside District Attorney's Office contacted Dawn's lawyer several days ago. Dawn's lawyer said emphatically their position hadn't changed, Dawn would not cooperate with officials. Dawn had nothing to say to the cops."
A source close to Lindsay tells us: "Without Dawn's cooperation, there simply is no case. The Riverside D.A. would have a very, very hard time prosecuting Lindsay without the cooperation of the primary witness. Even if Dawn did cooperate, no crime occurred. The Palm Desert Police are out to get Lindsay."
The Riverside District Attorney told RadarOnline.com on Wednesday that the office had to do more investigation before deciding whether or not to charge Lindsay in connection with the altercation.
Article continues below advertisement
As RadarOnline.com previously reported, an official from the Palm Desert Police Department delivered Lindsay's criminal file to Los Angeles Superior Court Judge Elden Fox last week in Beverly Hills, CA. Judge Fox -- who's presiding over Lindsay's probation-- took no action after reading the cops in Palm Desert.
The source goes on to say: "Dawn is the subject of a criminal investigation herself right now, as she has been accused of violating a HIPPA law (for selling private medical records), and that is a crime. Dawn wishes Lindsay nothing but the best in the road to her sobriety. This was an unfortunate incident that got blown out of proportion."