EXCLUSIVE INTERVIEW: Snooki's Ex Emilio Apologizes For Drunken Text Rampage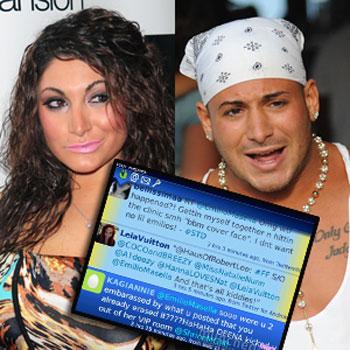 When will people learn – never, never, never drink and tweet!
Case in point – Snooki's ex-boyfriend Emilio Masella, who downed one too many Thursday night and embarked on a drunken Twitter rampage against Jersey Shore cast member Deena Cortese.
EXCLUSIVE: Emilio Goes On A Drunken Twitter Rampage Against Dena
Upon waking this morning, with a pounding hangover, Emilio immediately realized the error of his ways and rushed to delete all the offending evidence, but unfortunately, not before another reality TV star had picked up and retweeted his missives all over cyberspace!
Article continues below advertisement
"I deleted everything but not before Tanisha from Bad Girls Club retweeted it," a sheepish Emilio told RadarOnline.com in an exclusive interview. "It got picked up all over the place."
Emilio went on to explain what set him off on his Twitter attack – pretty much a case of hurt feelings and a little drunken misunderstanding it seems.
"We were both at a club, in separate VIP areas with our friends, and I went to talk to Deena but she totally dissed me and wouldn't talk to me in front of people, and she refused to let me enter her VIP area," Emilio told RadarOnline.com.
"But then later, a bouncer came over to me and said Deena wanted to talk to me after the club and gave me two hotel room numbers to go to later and meet with her.
"I thought she just wanted to talk privately rather than in public, because of what went on with Snooki. So I went to one of the rooms, and it was the wrong one – I ended up waking her mother up at 4 am!
"I was really drunk and never made it to the other hotel room, instead, I started tweeting on the way home - I don't even remember doing it, but when I woke up I saw what I wrote, it was really bad.
Article continues below advertisement
"I called Deena all kind of names and one thing that was picked up was that I posted: 'Snooki I f***ed Dina last night.'
"I would never sleep with Deena, I wouldn't lower my standards like that and I wouldn't do that to Snooki."
(Hey that doesn't sound like an apology to us!)
Emilio continued: "I was actually trying to make good last night and when she wasn't nice, I got p***ed. I have to say sorry to Deena about my drunken tweets though, they weren't cool."