EXCLUSIVE INTERVIEW: Jesse James Ex Wife Warns Kat Von D: You Don't Know What You're Getting Into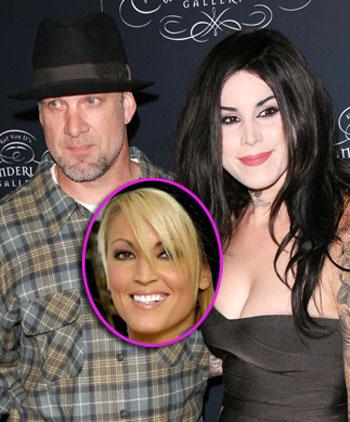 Janine Lindemulder has told RadarOnline.com that the only way that Jesse James and Kat Von D could have a marriage that would work was if it was an open relationship.
And James' former wife - who is still involved in a bitter custody battle with him over their 7-year-old daughter Sunny - believes that he is showing his last wife, Oscar winner Sandra Bullock, 'no respect' by getting engaged so quickly to the famous tattoo artist.
Article continues below advertisement
In a blistering exclusive interview with RadarOnline.com Lindemulder warns the L.A. Ink star that she does not know 'who or what' she is getting involved with if she decides to marry Jesse James.
"Jesse certainly knows how to sweep a woman off her feet - but Kat better watch-out because she does not really know what she is getting into," revealed Lindemulder.
"He asked me to marry him after a short time and bought me a fabulous Rolex watch but the novelty soon wore off once he discovered he could not control me.
Article continues below advertisement
Article continues below advertisement
The West Coast Choppers star split with ex-wife Sandra Bullock in the spring of 2010, after it was publicly revealed he'd been cheating on the Oscar-winner. He finalized his divorce with Bullock during the summer, and promptly relocated from Southern California to Austin, Texas.
Lindemulder added: "I know people might think I'm bitter but believe me Jesse can be a very vindictive person, I know from personal experience
Article continues below advertisement
"He is still furious with me and I believe he is still angry with Sandra Bullock too after she did not take him back when he moved to Austin.
"Jesse will never admit it but if he had to choose between Kat and Sandra I'm sure that he would pick his last wife – he screwed that up big time and he knows it.
Read Janine Lindemulder's full letter to Kat Von D
"At the end of the day if you are not the kind of woman who will do exactly what he wants then it is not going to work because it is all about Jesse James and nobody else.