Exclusive
EXCLUSIVE INTERVIEW: 'I Felt Rage For The First Time In My Life', Says Sister Of Murdered Showgirl Who Yelled At Suspect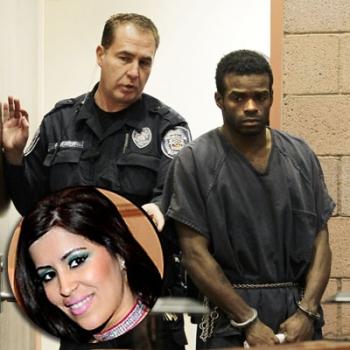 It was simply too much for Celeste Flores-Narvaez to handle -- seeing up close the man accused of the gruesome murder of her beloved younger sister, Debbie.
In an exclusive interview with RadarOnline.com, Celeste told us what was going through her mind -- and through her heart -- when she shouted at Jason "Blu" Griffith during his arraignment in a Las Vegas courtroom Wednesday morning.
"When I walked into the courtroom and looked at Jason, I burst into tears. I couldn't hold back the pain I felt and yelled, 'I hope you rot in hell for what you did to my sister you bastard.' An officer came over and gave me some tissue, it was too too much to handle", Celeste told us.
Article continues below advertisement
"When I saw him I didn't think I was going to react or anything. I was sweating, I was not myself. I was utterly disgusted and I felt sick to my stomach, I wanted to take things into my own hands. He didn't look at me not once. I felt angry and deeply hurt. I literally felt rage for the first time in my life. Every single emotion possible that you could feel after loosing a loved one is how I felt in that courtroom this morning."
As RadarOnline.com previously reported, during the hearing, the charges (murder, domestic violence and destruction of evidence) were read aloud to Griffith, who was wearing a blue jumpsuit with his hands shackled. When Judge Chris Lee asked if he understood the charges, Griffith calmly responded "yes". An automatic plea of "not guilty" was then entered on his behalf.
The judge then set a preliminary hearing date of February 15. At that time, a judge will decide if there is enough evidence to order him to stand trial.
Article continues below advertisement
Until his next court appearance, Griffith remains held without bail at the Clark County Detention Center.
"It was just the first time I saw this man after what he did to my sister and it was a lot to handle. I will be at every single court appearance because I want justice for Debbie", Celeste told us.
Debbie Flores-Narvaez, 31, was reported missing December 14 after missing rehearsal for her production, the Luxor's Fantasy show. Her dismembered remains were found in a downtown Las Vegas home last Friday, placed in cement-filled tubs. An autopsy showed she had been choked to death.