Exclusive
EXCLUSIVE: District Attorney Suspicious Lindsay's Accuser Was Paid Off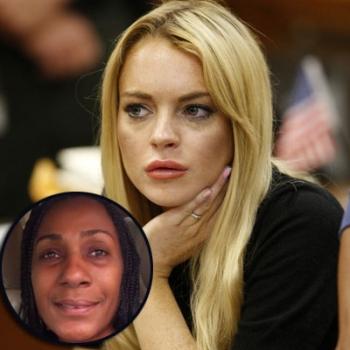 The district attorney handling the investigation into Lindsay Lohan's encounter with Dawn Holland has been highly suspicious that the former Betty Ford Center worker was paid off by the Lohan camp, RadarOnline.com is reporting exclusively.
The Riverside County D.A.'s office has kept open the case against Lindsay, and a source familiar with the situation tells RadarOnline.com that a suspected payoff to Holland is one reason why the officials have taken an extra hard look.
Article continues below advertisement
"Riverside District Attorney David Greenberg, who is handling the case, suspects that Dawn Holland was paid off by Lindsay Lohan's camp," the source told RadarOnline.com. "Greenberg believes that Dawn's change of heart was financially motivated. Greenberg believes Lindsay's camp paid Dawn off, plain and simple."
A source also tells RadarOnline.com that Lindsay was unaware of any payment discussions involving Holland.
RadarOnline.com broke the story that Michael Lohan admitted he agreed to pay Holland.
"Dawn has had her attorney meet with me, negotiate with me and even propose a "deal" with me," Michael Lohan told RadarOnline.com in an email.
RadarOnline.com reported exclusively a $25,000 deal was struck, but held up. A new deal was then constructed where Holland and Lindsay would do a joint interview for money.
Holland told RadarOnline.com that she has not received any money and didn't have a deal. She did, however, admit, that there was discussion of being photographed with Lindsay and those photos would then be sold.
Article continues below advertisement
Holland said that Lindsay attacked her at the Betty Ford Center when the actress returned late one night. She then sold her story and a confidential email -- divulging a patient's name -- to TMZ and was fired. A lawyer from Betty Ford Center notified authorities of the possible HIPAA breach.
Attorney Keith Davidson was hired by Holland, who after filing a police complaint, then refused to cooperate. Multiple sources tell RadarOnline.com that Davidson tried to negotiate a settlement with Lindsay's camp, with a possible civil suit looming. Holland declined to answer questions about the situation, and at times, she has contradicted herself.
MORE ON:
Betty Ford Center
Now, it's clear that her behavior has drawn the interest of prosecutors as well, who question her motives in suddenly deciding not to cooperate with the Lindsay investigation. She is not obligated by law to cooperate, but the new disclosures of possible payments could bring up other legal issues to expand the probe.
Holland parted ways with Davidson and is now represented by Owen Latham McIntosh who told RadarOnline.com that she did not agree to a financial deal with Lohan and didn't sign anything either.
Article continues below advertisement
The original source told RadarOnline.com that Lindsay never agreed to any type of payment. "She was completely unaware of what her father was doing on her behalf," the source said. "Lindsay has never in writing or verbally agreed to any sort of financial settlement with Dawn Holland. Lindsay has moved on from the situation and focusing on her sobriety. It's beginning to look like the actions of others could potentially harm Lindsay legally."