EXCLUSIVE DETAILS & PHOTOS: Charlie Sheen's New Years Celebration -- Flew To Porn Star Lover's Hometown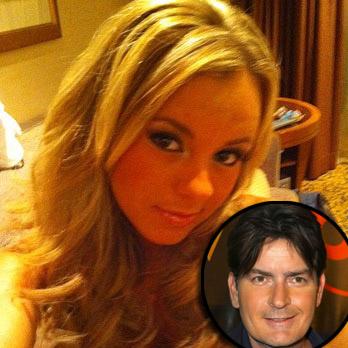 Charlie Sheen has found love with another porn star — and this one's just his type!
Bree Olson, 23, lists "older dominant males" on her official website as "what gets me off" (along with saving animals) and RadarOnline.com has learned she's proving to be just the ticket for Hollywood hell-raiser.
The Two and a Half Men star flew a private jet to Olson's hometown of Fort Wayne, Indiana, just after Christmas to spend time with his latest adult industry catch.
Article continues below advertisement
"Charlie is smitten and he decided he wanted to spend some quality time with Olson," one source close to the porn star told RadarOnline.com.
As we first revealed, Sheen missed three family Christmas events to live the high life over the holiday break.
But our source insisted the Christmas snub had nothing to do with Olson.
"He didn't go to Fort Wayne until after Christmas," the insider added.
Sheen is currently in Las Vegas and has had a "revolving door" of porn stars in his Las Vegas hotel room, according to one source close to the situation.
But while Sheen is sharing the love, Olson is said to have won his heart.
However, she certainly didn't give that vibe shortly after Sheen's visit, taking to Twitter with this message: "Any men in the Fort Wayne area wanna come fill me with c*m before I leave town? I'd like 10-20 guys tonight."
A rep for the entertainer told RadarOnline.com she is now en route to Cabo for 10 days!
RELATED STORIES:
EXCLUSIVE: Charlie Sheen's Porn Star Told Denise Richards: I'm A Prostitute