EXCLUSIVE DETAILS: Jeremy Renner Throws A-List 40th Birthday Bash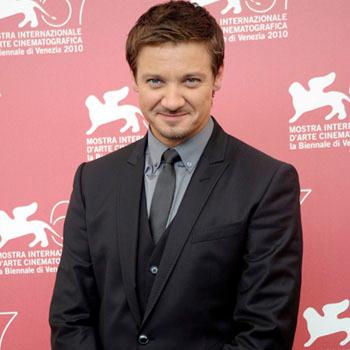 Jeremy Renner celebrated his 40th birthday with a huge bash at his Hollywood Hills home on Saturday night, complete with a who's-who of celebrity friends, including Colin Farrell, Charlize Theron, Kevin Connelly, Leonardo DiCaprio, Scarlett Johansson, Blake Lively and Christina Aguilera with her new beau Matt Rutler, just to name a few.
"Jeremy invited his closest friends and family to celebrate the milestone birthday," a source told RadarOnline.com.
Article continues below advertisement
"Everyone was dancing and having a great time."
For the special soiree, The Hurt Locker star, whose birthday is January 7, set up a cupcake bar, DJ table and served plenty of food and drinks.
The source also told RadarOnline.com one guest may have had a little too much fun. Blonde Burlesque beauty Christina Aguilera brought along her new man -- who she met on the set of her debut film -- to the fabulous fete, but it seems she didn't get to enjoy much of the festivities.
"Christina and Matt were in a back room and he was taking care of her," said the source.
"Christina looked like she was in a drunken state and Matt was tending to her lovingly, rubbing her back and trying to make her feel better.
"Then at about 4 a.m. Matt helped her downstairs and escorted her out of the party."
But as the saying goes, the show must go on -- and that it did!
VIDEO: 'Hurt Locker' Star Jeremy Renner Rocks Out On Stage With Steel Panther