Elton John Raises $3M To Overturn Prop 8, Says 'F*** You' To Gay Marriage Opponents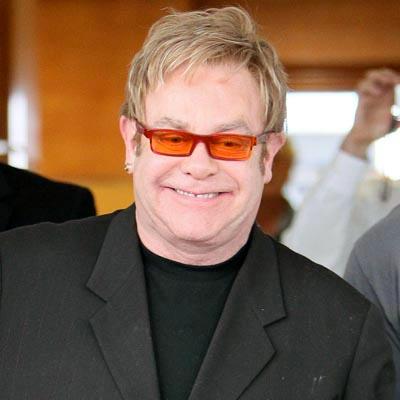 Less than a month after becoming a father, Elton John performed at a Los Angeles charity event Wednesday night where he received multiple standing ovations and had the crowd cheering when he gave an impassioned speech slamming opponents of gay marriage.
Elton played the piano and sang for over ninety minutes at a benefit for the American Foundation for Equal Rights at the home of billionaire Ron Burkle. The event, which raised more than $3million to fight to overturn California Prop. 8 and restore marriage equality, was attended by 750 of Hollywood's most powerful celebrities and executives including Glee's Jane Lynch, who married her partner Lara Embry in 2010.
Article continues below advertisement
Elton played his most famous songs including Rocket Man, Candle in the Wind and Benny and the Jets and also included a few newer songs too. But it was his comments in support of gay marriage between songs that had the crowd cheering.
"I think I have it all," he said. "I have a wonderful career, a wonderful life. I have my health, I have a partner of 17 years and now I have a son.
"I don't have everything because I don't have the respect of people like the church or like politicians who tell me that I'm not worthy, that I'm lesser because I'm gay, well f*ck you!"
Elton and his partner David Furnish welcomed their son Zachary on December 25th, 2010 and he proudly announced the news to the crowd.
"I'm a dad!"
Yet in his joy of celebrating the new addition to his family he continued to express frustration at not being legally wed.
VIDEO: Ricky Martin & Other Stars Unite For Anti-Gay Bullying PSA
"Here I am sitting with a wedding ring and I'm with my partner and we have a son but we couldn't get married."
Article continues below advertisement
When he played Ballad of the Boy in the Red Shoes he spoke of his regret for not being more aware of AIDS issues. "This song is about AIDS. This song is about a dancer who gets AIDS in the early 80s in New York. Of course at that time I was AWOL and the American government was AWOL and they did nothing for people or people with the disease and it was a disgrace and I was a disgrace as well."