COURT DOCUMENTS: Injunction Sought Against Floyd Mayweather Jr. To Stop 'Hostile & Hazardous' Behavior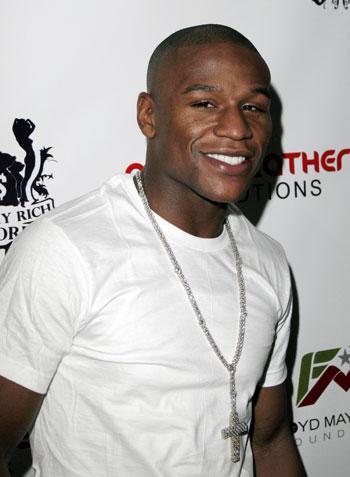 Professional Boxer Floyd Mayweather Jr. is being sued by a Nevada housing community in an attempt to stop what they call "hostile and hazardous conduct" toward their staff and security personnel, RadarOnline.com has learned.
In court documents filed Tuesday in Clark County District court, the Estates at Southern Highlands Golf Club Community Association is seeking an injunction to force Mayweather Jr. to abide by community rules and prohibit him from continuing a "hostile and hazardous course of conduct" toward employees.
Article continues below advertisement
COURT DOCUMENTS: Floyd Mayweather Jr. Sued By Housing Association
Mayweather Jr. resides within the gated community - the home is owned by FOJOSO, LLC, which the boxer is a managing member.
The lawsuit alleges that since October 2010, Mayweather Jr. has "repeatedly engaged in hostile, harassing and threatening behavior toward and against certain employees and security personnel employees...including but not limited to, threatening the life of a patrol officer, physically accosting a security officer, refusing to provide identity to gate officers."
PHOTO: Floyd Mayweather -- Best Mug Shot Ever!
The lawsuit also claims that the boxer has refused to obtain a transponder to gain access to the community and has refused to place identification decals on his vehicles.
The injunction would require Mayweather Jr. to immediately place transponders in his vehicles, to display identification to security when entering the community, to remain inside the vehicle while at the entrance and to refrain from threatening and harassing security