ARIZONA SHOOTING: Surveillance Tapes Reveal New Details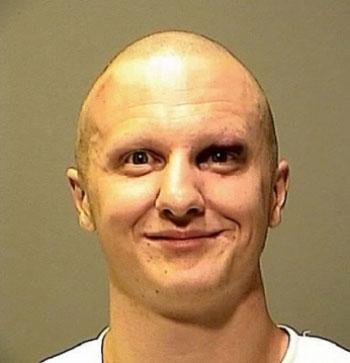 Authorities recovered nearly two dozen surveillance tapes from both inside and outside the Arizona Safeway grocery store where Jared Lee Loughner went on a wild shooting spree, and the footage is graphic and disturbing.
Sources who have viewed the tapes told the Washington Post that Loughner is seen shooting Rep. Gabrielle Giffords in the face, above the left eye, from just two or three feet away.
"He walks up, goes bang. It's very clear," a source said.
Article continues below advertisement
"He is maybe 24 to 36 inches away. You can see her go straight down."
Killed in the gunfire was U.S. District Judge John Roll, who an eyewitness of the video says was trying to help Ron Barber, Gifford's 65-year-old district director.
"Judge Roll starts to push Barber down on the ground and lay on top of Barber, and they start to scamper under the table, but Roll is on top," the source said.
EXCLUSIVE DOCUMENTS: Newly Released Police Reports On Jared Loughner And Family
"At that point, you can see the suspect shoot Roll. Roll gets shot in the back, then he sort of appears halfway on the other side of the table. He starts to look over his right shoulder, and then he lays back down. It took out his aorta is what the autopsy showed."
The surveillance videos of the January 8 massacre are in possession of the FBI and are expected to be used as evidence during Loughner's trial for murder charges – as he killed six people and injured 13.
Article continues below advertisement
According to timestamps on the videos, Loughner entered the Safeway store at 9:54 a.m. and opened fire at 10:10 a.m.
After unloading 32 rounds, the 22-year-old gunman was taken down by bystanders.
The surveillance tapes also lead investigators to believe he used the store's bathroom to put in ear plugs just moments before he opened fire.
"He's going, 'Can't you see I've got ear plugs on,'" a source who viewed the tapes said of Loughner's exchange on video with a store clerk.