ON YOUR RADAR: The Best Beach Bodies Of 2010!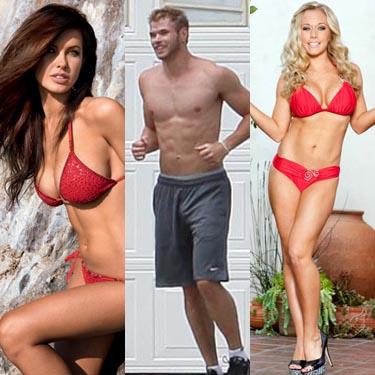 Life's a beach for these Hollywood stars, who stripped down and steamed up the shoreline with their perfect 10 bodies.
RadarOnline.com has scored sexy photos of 2010's hottest beach bodies -- from sizzling supermodels in skimpy string bikinis to blockbuster hunks in trunks!
Kate Gosselin definitely made a splash in 2010, when she shed her layers and showed off her new and improved bikini body. The mother of eight worked out hard to firm and tighten up her figure, but every drop of sweat was worth it. She had one of the most awe-inspiring bodies of the year! See Kate show off her new and improved bikini body here.
Article continues below advertisement
Kendra Wilkinson also revealed a fabulous new figure in 2010. The former Girl Next Door hit the gym, shedding all of the weight she gained during her pregnancy. See Kendra show some skin in her skimpy swimsuits here.
Alessandra Ambrosio, Miranda Kerr and Brooklyn Decker get paid the big bucks to put on designer duds-and take them off as well! While absolute Angel's Ale and Miranda have perfectly fat-free and fabulous figures, Sport's Illustrated covergirl Brooklyn fills out her string bikini top in the most boobilicious way possible! See Alessandra make a splash here, Miranda here and Brooklyn here.
When it comes to packing heat, Glee's Matthew Morrison is on fire with his six-pack abs! The hunky star (who was spotted out on the town with bikini babe Cameron Diaz this Fall) proved that he had a lot more going for him than his covetable career and recent Golden Globe nomination, when he peeled off his shirt earlier in the year, revealing his smoking hot body. See Matthew's Glee-ful beach bod here.
Article continues below advertisement
Kellan Lutz and Matt Lanter also did their duty, making girls across the globe salivate with their magnificently muscled bods. See Twilight stud Kellan here and 90210 hottie Matt here.
And though 2010 was filled with several sexy and Real Housewives, Kelly Bensimon proved to be the most babelicious body on the beach. The former model hit the gym hard to keep her body perfectly toned and chiseled, and took every opportunity she got to strip down into skimpy bikinis. See Kelly's perfect body here.