VIDEO: Brian Austin Green Talks Wedding To Megan Fox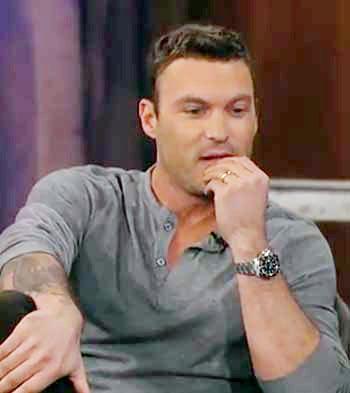 Brian Austin Green opened up about his beachfront Hawaiian wedding to sultry actress Megan Fox, his son's involvement in the ceremony and what it's like to have one of the sexiest starlets in Hollywood as your wife, while appearing on Jimmy Kimmel Live Tuesday.
Watch the video on RadarOnline.com
"We planned the whole thing," the Beverly Hills 90210 hunk said of his June 24 nuptials, a well-kept secret from the media and paparazzi at the time.
Article continues below advertisement
"We did have a small wedding with my son," he said, referring to his 8-year-old boy Kassius, whose mother is Las Vegas stunner Vanessa Marcil.
Kimmel then flashed to the couple's wedding photo -- including their priest in a Hawaiian, toga-like robe -- and inserted his snarky humor, saying, "It's a good thing it's Hawaii, otherwise it's a pervert marrying you!"
"They're laid back there -- that's what makes it Hawaii," Green said.
Green said his son "was included" in the bachelor party, joking "Oh he got wasted, he got really wasted."
Kimmel then came at the 37-year-old Desperate Housewives star with a question that was brilliant in its' simplicity.
"Do wake every morning and say, 'Hey buddy, I married Megan Fox?'" Kimmel asked.
"I do, I do, I'm a lucky man." Green said.