Santa Crime Spree! All These Santas Have Been Arrested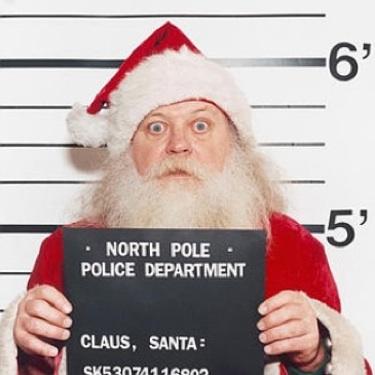 Here comes Santa Claus, here comes Santa Claus, right down Santa Claus lane – to jail!
The holiday season brings out the best and worst in families, and it also is a time when criminals think they're being extra creative by dressing up like Jolly Old St. Nick to thwart the authorities while they go on their Santa Crime Spree! (Yes, it takes a special kind of crook to sully the good name of Santa.)
Article continues below advertisement
So for some holiday cheer and jeers, RadarOnline.com brings you Bad Santas.
Almost 100 drunk Santas were causing a disturbance at a mall in Dayton, Ohio terrifying little kids, and two Santas were carted off to jail. Dressed up like Santa for the annual SantaCon event, the revelers got out of hand shouting and scaring customers in the mall. Two women were arrested in Santa costumes.
"The kids were scared to death. They're arresting Santa Claus," an onlooker said about the jail-bound Santas.
In Rhode Island a man dressed in a Santa suit armed with a gun robbed the East Providence Yacht Club. Wearing a Santa hat, white beard, red Santa jacket and jeans, he pulled out a shotgun from a Santa bag in the club. The bartender fled the club and called police. When they returned an undetermined amount of cash was missing but the Santa was not apprehended.
Dressing up like Santa seems to work while robbing a bank too. Wearing a red and white Santa hat and man robbed a bank in Jacksonville, Florida. According to police he fired a shot with a silver semiautomatic pistol into the ceiling as a warning.
Article continues below advertisement
"I was leaving to go to lunch. I usually look over at the bank to wave hi, and I saw a gentleman, black male with a Santa hat on waving a gun," an eyewitness said. "I heard a shot, saw the smoke and ran back in and asked my co-worker, Julie, I said, 'Call 911. I think the bank's being robbed." This Santa wasn't apprehended either.
So Santa is making his list, checking it twice, and he's going to find out that when he's naughty the police will be there to take him to jail!