Rock And Roll Hall Of Fame: Neil Diamond, Alice Cooper To Be Inducted In 2011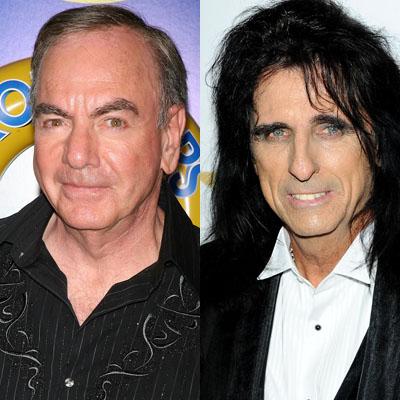 Neil Diamond and Alice Cooper will be inducted into the Rock and Roll Hall of Fame next year, RadarOnline.com has learned.
Darlene Love, Dr. John and Tom Waits were also announced as inductees for next year's ceremony.
EXCLUSIVE: Art Garfunkel's Concert Meltdown -- Over A Tissue!
"I thought about it occasionally, but I kind of figured they'd get around to me at some point," Diamond, the 69-year-old singer of hits such as Sweet Caroline and America, told the AP.
Article continues below advertisement
Cooper, whose anthems such as No More Mister Mice Guy and School's Out are still staples on hard rock radio, said he'd waited for the call for awhile.
"You know it crosses your mind, but then you think of all the guys who aren't in there, some of them before you," the 62-year-old rocker said. "You realize that it's a waiting game."
As for snubs, eligible performers who didn't get the call include Bon Jovi, LL Cool J, Donna Summer and Sonny & Cher.
Cher last month told Vanity Fair "it just seems kind of rude" she and Sonny have not been inducted yet.
"We started something that no one else was doing," the Burlesque star told Vanity Fair last month. "We were weird hippies before there was a name for it, when the Beatles were wearing sweet little haircuts and round-collared suits.
Concert Review: Glee Live! Brings Magic Of TV Show To The Stage
"We influenced a generation, and it's like: What more do you want?" Cher said.
The 26th annual ceremony will take place on Monday, March 14, 2011, at the Waldorf Astoria in New York City and will be broadcast on Fuse, Madison Square Garden's national music television network.
RELATED STORIES: