PHOTOS: Spotted & Sexy! Stars Show Off Their Animal Instincts In Sexy Bikinis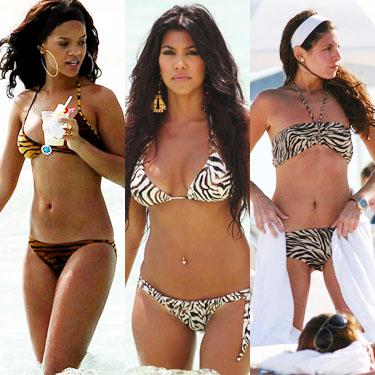 When it comes time to strip down for the beach, sometimes Hollywood's hottest celebs bring their animal instincts with them!
RadarOnline.com has compiled photos of hot-bodied stars making a rumble in the jungle - stripped down and sexy their skimpy animal print bikinis.
Rihanna is an exotic island beauty, who found her true calling on the stage. The wild and sexy bikini babe brings her heat to the beach, by showing off her dangerous curves in attention-grabbing animal fashions.
Article continues below advertisement
Shauna Sand is a cougar in leopard spots! The busty blonde, who has rumbled in the jungle with various hot young things since she split with Lorenzo Lamas several years ago, loves showing off her impossible measurements in barely-there animal print bikinis.
See Shauna Sand pounce around in her leopard print bikini here.
Kim Kardashian is always on the prowl for the next man in her life! Though it is hard Keeping Up with Kim's love life, luckily the cameras are around when the busty reality show star shows off her bombshell bod in red hot and skimpy animal print bikinis.