PHOTOS: Mission Possible! Muscle Man Tom Cruise Pumps Up In Canada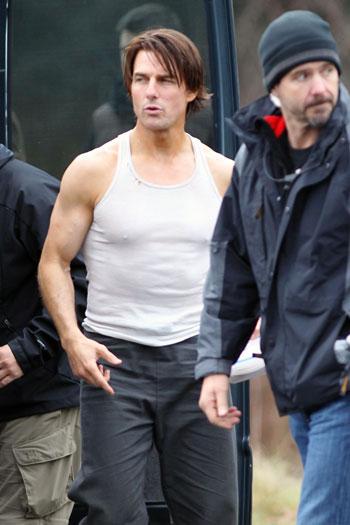 Tom Cruise has tickets to the gun show!
It looks like performing all his own stunts is definitely working out well for Tom Cruise's physique, as these RadarOnline.com photos reveal.
The actor was snapped on the Mission Impossible 4 set in Vancouver, Canada.
Wearing a super-tight white vest top that showed his muscular arms off to perfection, the 48-year-old looked incredibly buff and in shape.
Cruise has been keeping a low profile since he arrived in Vancouver earlier this month.
Article continues below advertisement
And it looks like he's about to start filming a whole host of new stunts following up on his death-defying activities while filming Mission Impossible 4 in Prague and Dubai.
This time round, Cruise's character Ethan Hunt is set to have a sidekick played by The Town star Jeremy Renner.
And it looks like Renner has been brought in to eventually replace Cruise as a next generation Ethan Hunt.
Renner tells MTV: "It's a franchise to potentially take over. I can't predict the future and what they want, but that's certainly the idea."
The 39-year-old has also been closely studying Cruise in order to be the best action hero possible.
He says, "I haven't gotten to work too much in terms of acting stuff, but the stunts have been insane. Tom has been doing loads. He's crazy, that guy. It's unbelievable. He's fearless. He's great to watch. He inspires me to want to be better.
"I'm training in the gym and working out and fighting and doing everything I can to try and keep up. I'm doing hand-to-hand combat, Muay Thai and kung fu and learning how to take someone out quickly. I need to look like I know what I'm doing!"