PHOTOS: Lady Gaga Goes Down And Gets Dirty With A Woman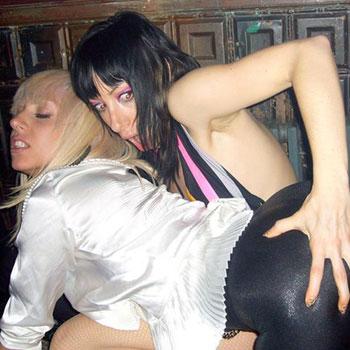 Lady Gaga has ditched the 'disco stick' in favor of some raunchy female company -- and RadarOnline.com has the pictures.
The controversial snaps were taken in 2008 but appear to have resurfaced sending fans into a hot and heavy frenzy.
Lady Gaga's World Wide Wax Figures
The first photo shows Gaga having her bottom grabbed as she is bent over an unidentified woman's knee, but it's the picture of the wacky singer simulating oral sex with her that has got people talking.
Article continues below advertisement
Last year, Gaga finally admitted to being bisexual, telling Barbara Walters she had flings with both men and women.
"I've certainly had sexual relationships with women, yeah," she said at the time.
She also addressed her sexuality in an interview with Rolling Stone magazine.
"The fact that I'm into women, they're all intimidated by it," she said. "It makes them uncomfortable. They're like, 'I don't need to have a threesome. I'm happy with just you.'"
Not surprisingly, Gaga just landed herself the title of Showbiz Tonight's Most Provocative Celebrity for 2010, beating out such other famous eyebrow-raisers as Miley Cyrus, Lindsay Lohan, Mel Gibson and Charlie Sheen.
RELATED STORIES: