VIDEO: Lady Gaga Releases New Video Calling For Repeal Of 'Don't Ask, Don't Tell'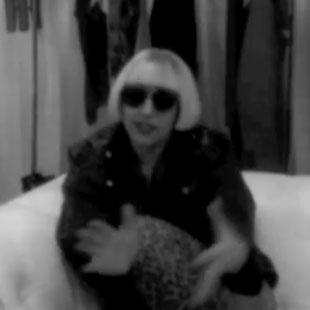 Lady Gaga posted a new video on YouTube Monday calling for the repeal of Don't Ask, Don't Tell, as the Pentagon prepares to release it's long-awaited report on the controversial 17-year-old law which bans openly gay people from serving in the U.S. military.
Watch the video on RadarOnline.com
In the two-minute black-and-white video, which appears to have been taped backstage at a Gaga show, the Poker Face singer says: "Right now, we're looking at tomorrow Tuesday being a very important day for you guys all to really be paying attention," she says in the clip, noting that the Senate will begin a repeal hearing soon.
Article continues below advertisement
Gaga said there's a small window of time for the law to be taken off the books prior to the Republicans overtaking the House of Representatives in January. She said if the law isn't repealed soon, "it could take years for it to happen."
The New York-bred singer reviewed relevant events of the past few months, saying how eliminating the Don't Ask, Don't Tell law would set the right foot forth in society.
"Social repression is currently running rampant in this country as many of you know," the Paparazzi singer said. "Kids are being led to believe that it's OK to hate and condemn based on our differences, and this recent horrific news of gay suicides is really proof of our social repression and ultimately government repression that is killing our youth. We have to end this law because it reinforces discrimination and it's setting a bad example.
Article continues below advertisement
"We've known for many years that an overwhelming majority of Americans are ready to repeal," Gaga said. "Senators, you have been put on notice by me and by the people of this country. You said you would debate and address this law when the Pentagon returned with a strategy and tomorrow morning you will have it. So will you keep your word? Please keep your word."
Gaga acknowledged that while she's an entertainer, she's remiss to not use her fame for the greater good.
"I know sometimes that political activism when you're a pop singer can be kind of trivial," Gaga said, "but in truth I feel very close to all of you and I feel like I share a very special connection with my fans and I feel like I can speak for you, and you're screaming, 'Please end this law -- equality for all.'"
She encouraged her fans to contact their senator to voice their support of the repeal.
RELATED STORIES: