Lady Gaga To Get Waxed At Madame Tussauds -- All Over The World!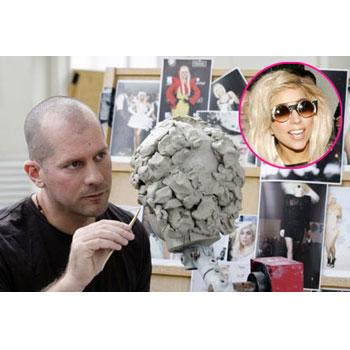 Lady Gaga is coming to a city near you on December 9th! The world's sassiest singer is joining the ranks of Britney Spears, Madonna and Beyonce, as the latest star to get waxed by the famous Madame Tussauds Wax Museum. The chart-topping star will be molded into eight different looks, which will be scattered around 8 cities worldwide -- making her the biggest figure launch in the museums history!
Gaga will take the stage in Las Vegas, Los Angeles, New York City, Berlin, London, Amsterdam, Shanghai and Hong Kong, wearing a different one of her iconic designer looks in every city.
Article continues below advertisement
"We're very excited about Lady Gaga's imminent arrival at Madame Tussauds New York, Madame Tussauds Las Vegas and Madame Tussauds Hollywood," said Janine DiGioacchino, who oversees all three wax attraction as Divisional Director of Midway Attractions, Merlin USA. "As one of the biggest and most unique talents in the world, Lady Gaga is the perfect subject for the biggest figure launch in Madame Tussauds' history. All of the styles being worked on are classic Gaga and we're sure her fans will be delighted with the unique looks when we unveil the figures next month."
The process of creating a wax figure takes four months to complete by a creative team of molders, artists make-up artists, hairdressers and stylists at a cost of more than $300,000 a figure, so all eight of Lady Gaga's figures will total $2.4 million.
Madame Tussauds creative team is working with Lady Gaga's favorite designers to make sure the looks are accurate and spot on. These will include:
Lady in Lace - Alex Noble lace body stocking and Philip Tracey face mask topped off with Marie Antoinette style hairstyle. As seen at The Brit Awards 2010.
Telephone - Phillip Tracey telephone hat paired with a black Armani coat, flared trousers and towering heels. As seen on Friday Night with Jonathan Ross in March 2010.
Harlequin - Black Marjan Pejoski Body suit with oversized black neck fuff and sleek, super straight platinum hair. As seen at Grand Intercontinental Hotel Seoul, South Korea.
Kinky Boots - Short black Bruno Pieters leather body suit cut away to reveal black lace bra, quirky "disc" hat and thigh high black boots. As worn at the Hakkasan restaurant in London in April 2009.
Mini Mouse - Off one shoulder black latex body suit with long straight hair topped off with "mini mouse" style buns. As seen at the BBC Radio 1 studios in London.
Hair Hat - Gaga's own blonde locks splayed out into a huge sunhat teamed with black see-through net dress. As seen at the Consumer Electronics Show in Las Vegas.
Wired "wing" dress with lightning "eye" - Short black Orschel-Read strapless dress with wired, thigh high patent boots and black lightning stripe make up over one eye. As worn on the Wetten Dass..? gameshow in Germany in November 2009.
Big Hair - Towering purple hair piece atop waist length platinum locks, with nude Maison Martin Margiela bodysuit, white blazer and huge platforms. As seen outside Phoenix Hotel in Copenhagen, Denmark in July 2009.
RELATED STORIES:
VIDEO: Lady Gaga Hits The Stage With Yoko Ono