PHOTOS: Celebs Show Off Their Bikini Bods In Festive Colors!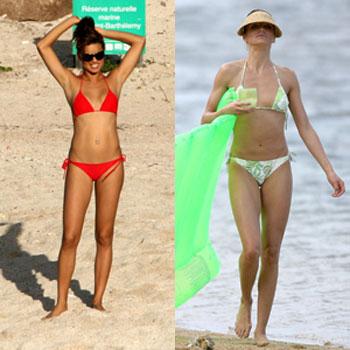 What better way to get into the holiday spirit, than to look at Hollywood's hottest bodies decked out in the sexiest red and green bikinis? RadarOnline.com is bringing you the gift of sexy this holiday, compiling photos of all your favorite stars showing off their smoking hot bodies in the official colors of Christmas! Click the next sentence to see all the festive bikini babes.
Click Here To See Celebs Show Off Their Bikini Bodies In Festive Colors!
Article continues below advertisement
Adriana Lima is on of the sexiest Angels on the planet. The Victoria's Secret model gets paid the big bucks to strut her stuff in bikinis and lingerie, but you don't have to pay anything to get a glimpse at her hot body!
See Adriana Lima stripped down in her red bikini here.
Only a Grinch wouldn't get excited about the sight of Audrina Patridge's toned and taut bikini body. The Hills hottie has one of the most impressive set of abs on the West Coast, and loves to show them off prancing around the beach in skimpy bikinis.
See Audrina's fabulous figure in a green bikini here.
Kelly Bensimon is a hot Housewife who keeps it Real in New York—and sexy in Miami! The former model, who recently bared all for Playboy, has one of the most banging bikini bodies in her age group, and loves showing it off in gorgeous green bikinis.
See Kelly's hot bikini body here.
Kate Hudson and Cameron Diaz are two SoCal bikini babes who have a thing for the New York Yankees—more specifically their star player Alex Rodriguez! Though both blondes have covetable careers as well as covetable curves, Kate prefers to show her painfully perfect bod off in a skimpy red bikini, while Cam opts for green.
See Kate's red hot bikini body here and Cam's here.
For all these bikini babes and more, don't miss RadarOnline.com's special holiday bikini feature.
RELATED STORIES:
EXCLUSIVE VIDEO: Victoria's Secret Angels Share Sexy Secrets!