PHOTOS: Celebrities Plumpin' Up For Christmas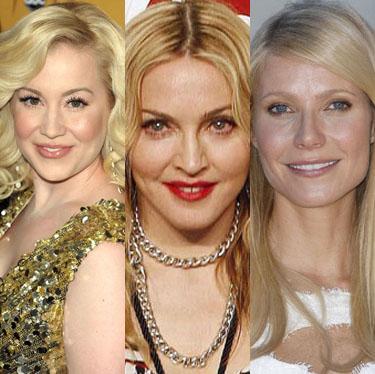 It's normal to stuff your face over the holidays, but these celebrities appear to have plumped up their cheeks with something other than turkey -- and RadarOnline.com has the surprisingly pictures.
While it's hip to be thin in Hollywood, these stars are looking decidedly fuller in the face than earlier in the year, prompting speculation of a 'pillow-face' epidemic.
The chipmunk cheeks and slit eyes may be the result of a 'surgery-free facelift' including a host of different fillers and muscle paralyzers such as Botox.
Article continues below advertisement
When Madonna, 52, was photographed at the opening of a gym in Mexico on November 29th 2010, it wasn't her muscles which were the talk of the town, instead her puffier face and lips drew stares.
And Lara Flynn Boyle, 40, was barely recognizable as she stepped out for a movie screening in Santa Monica, California last week with inflated cheeks and a trout pout.
But perhaps one of the most surprising was Gwyneth Paltrow, 38, who debuted her new look while receiving a star on the Hollywood Walk of Fame.
The usually natural looking star's face was clearly more rounded and her skin appeared stretched, and despite smiling widely, there were no lines or wrinkles around her eyes or mouth.
Former American Idol contestant Kellie Pickler, 22, literally went up in the world when she had breast implants. Now, she appears she may have done something to her face too.
Sharon Osbourne, 58, and Priscilla Presley have made no secret of their plastic surgery past. But recently they have taken it to the extremes adding a 'pillow-face' to their list of procedures.