Exclusive
EXCLUSIVE: Emails Reveal Plastic Surgeon Pushed Heidi Montag For More Surgery & Wanted Fame - Read Them Here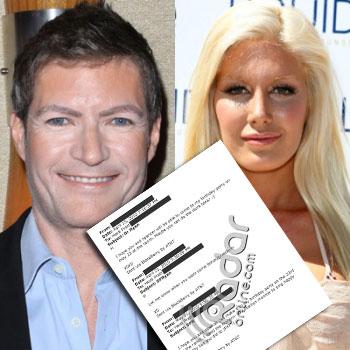 Blockbuster emails between Heidi Montag and her plastic surgeon Dr. Frank Ryan offer compelling evidence that the doctor was obsessed with his celebrity patient and pushing her toward more plastic surgery while asking her to help increase his celebrity status.
RadarOnline.com has exclusively obtained a series of emails between Heidi and Dr. Ryan from April 15, 2010 through August 8, 2010.
In one particularly revealing email, Dr. Ryan writes to Heidi on July 12: "Not sure if you are following me on twitter, but could you mention to your followers that they may want to follow me? My web guy keeps bugging me to get more active in twitter."
Article continues below advertisement
RadarOnline.com EXCLUSIVE: Read the Heidi Montag-Dr. Ryan Emails Here
Montag has said that she believes Dr. Ryan did not properly inform her about the 10 plastic surgery procedures she underwent in 2009. Her frank criticism of Dr. Ryan, who died in a car crash this year, caused one of his pals to defend him and accuse Heidi of being romantically obsessed with the doctor.
"I believe she had a crush on him," the celebrity plastic surgeon's long-time friend Dawn DaLuise told RadarOnline.com in an exclusive interview. "I believe she was romantically obsessed with him... she saw him as a night in shining armor."
But the emails obtained by RadarOnline.com show that Dr. Ryan pursued Heidi persistently and seemed to revel in his fame.
At one point, as he is repeatedly asking her to come to his birthday party, he wrote: "I need the modern- day marilyn monroe to sing happy birthday like she did to JFK! :)"
A May 29, 2010 email from Dr. Ryan to Heidi shows the doc was well versed in promoting himself – and he didn't hesitate to try to enlist Hedi's star power to help. He wrote to her:
Article continues below advertisement
"Do you actually plan to stay at casa ryan? If so, let me know what you want in the fridge and I will have my workers stock it for you
"Can you wear the dr frank ryan eco-spa wear along with a dr frank ryan T that day? They are perfect for lounging or yoga or working out etc. I will bring some with me so you can change into them, if you donr mind."
Supporting Heidi's claims that Dr. Ryan was pushing for more plastic surgery is an email from April 21, 2010 where Dr. Ryan writes: "Let me know when you want some botox/juvederm."
He routinely signed his emails to her XOXO.
Throughout the emails he routinely talks about doing "injectables" on Heidi although she does not appear receptive.
In a new ABC interview this week, Heidi opens up about her plastic surgery regrets and reveals that she believes Dr. Ryan didn't prepare her enough.
"I definitely think I should have been way more informed," Montag said. "I think that doctors should really walk you through all aspects of it, not just the glamorous side of it. Doctors, it's like they're selling you cookies or something."