PHOTOS: Bikini Babes Get Sporty In Sexy Style!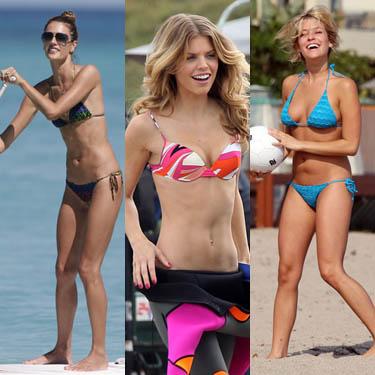 There's no question how these sexy stars manage to look so fit and fabulous in their skimpy bikinis.
Instead of just lounging around looking sexy with Margaritas in their hands, they take advantage of the sun and surf by engaging in sporty activities -- in drool-worthy style, of course!
From the tropics to the beaches of Malibu, paddle boarding is one of the sexiest water sports ever! Angel Alessandra Ambrosio, Rachel Bilson and Denise Richards all paddle their way to rock hard bods, while wearing super skimpy bikinis. See Rachel here, Alessandra here, and Denise here.
Article continues below advertisement
Surf's up for bikini bombshells Lindsay Lohan, Kirsten Dunst and Audrina Patridge! The Gidget's in training love riding waves-but how they manage to do it without losing their super skimpy bikini tops is a mystery to us. See Lindsay here, Kirsten here and Audrina here.
Gisele Bundchen is sexy AND coordinated! The highest paid supermodel in the world enjoys showing off her perfect 10 figure, while windsurfing in the waves. See her here.