PHOTOS: Bikini Babes In On-Again-Off-Again Relationships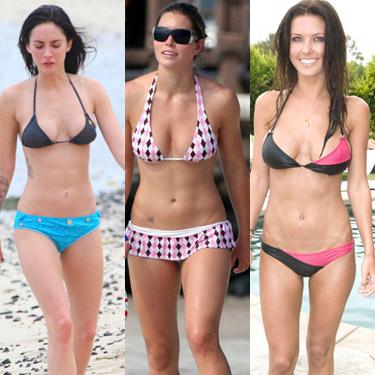 These sexy stars always have us guessing when it comes to their relationship status. Whether hot and heavy -- or cold as ice -- with their respective loves, they always bring heat to the beach with flawless and fab bikini bodies!
RadarOnline.com has compiled photos of Hollywood's hottest-bodied stars (stripped down and sexy in their skimpy swimsuits) who can't make their minds up when it comes to love.
Article continues below advertisement
Kate Middleton and Prince William may be headed to the royal alter, but the couple's romance has been no walk in Kensington Park. After a collegiate romance, the couple split ways for three months in 2007, but the heir to the throne couldn't stay away from the white-hot bikini babe, finally putting a ring on it this year.
Though they were recently spotted getting cozy on a boat, it hasn't exactly been smooth sailing for Cameron Diaz and Alex Rodriguez. After drafting Kate Hudson and Madonna's ex-baseball beau, hard-boded Cam has been playing the field with the New York Yankee slugger—calling the game off more than once.
And when it comes to reality television's most are-they-or-aren't-they duo, Heidi Montag and Spencer Pratt are notorious for their questionable Facebook relationship status. Whether 'Single', 'In a Relationship', 'Engaged', 'Married', or 'Divorced' the publicity friendly couple makes sure to let the world know what is going on in their personal lives.
Pink met motorcross pro Carey Hart at the X Games in 2001, and the couple have been on-and-off ever since. They dated for a few years, split, got back together, married in 2006, separated in 2008, then got back together in early 2009. Now expecting a delivery from the stork, let's hope they are done playing around!
And Baywatch babe Pamela Anderson and Motley Crue drummer Tommy Lee have reunited and split so many times, it is impossible to count!
What other bikini babes are indecisive about their love lives? Find out in RadarOnline.com's special bikini feature.
RELATED STORIES: