PHOTO: Miley Cyrus In Racy New Photo Scandal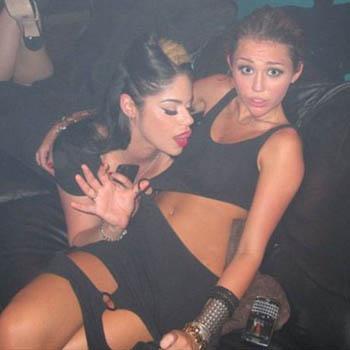 Miley Cyrus obviously can't be tamed. She's now in the middle of yet another photo scandal, and RadarOnline.com has the picture for you.
The latest Miley photo to hit the Internet shows her barely dressed in black, looking shocked as her assistant pretends to lick her breasts!
Like all of Miley's previously "leaked" scandalous photos and videos, the singer is looking right into the camera, obviously aware that the incident was being recorded for all to see.
Article continues below advertisement
Miley's exhausted dad Billy Ray Cyrus recently calls his daughter's actions "beyond" his control.
This latest Miley scandal comes just weeks after she was videotaped smoking salvia from a bong. The herb is legal in California and most states but can make users as high as those using LSD!
RELATED STORIES:
VIDEO: Bill O'Reilly Calls Miley Cyrus 'Pathetic'
Miley Cyrus Bonds With Mom In Wake Of Bong Controversy