INTERVIEW: Colors Are The Secret To Christie Brinkley Staying In Shape!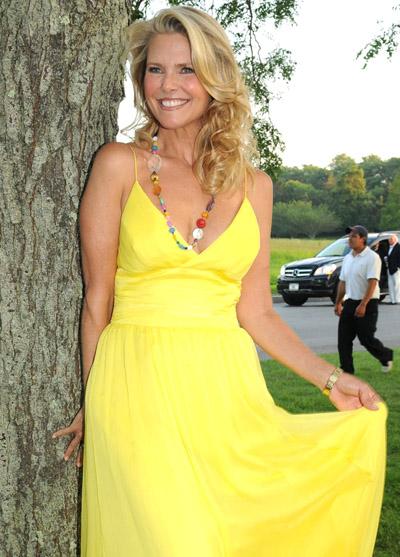 For Christie Brinkley the key to eating a healthy balanced diet is all about colors.
And while that might seem confusing at first, it's actually a simple plan that can be used by anyone.
The gorgeous supermodel told Shape.com in an exclusive interview that she is a vegetarian and the main concept in her eating plan is to "go for as many colors as possible in a day." She explains that helps her make sure her children get the correct amount of nutrients.
Article continues below advertisement
One way she manages to look amazing at 56 she told Shape.com is by using Total Gym. "The only constant that I have in my life is that I start whatever I do with my Total Gym because I believe it helps keep me from getting injured," said.
She also pointed out that using Total Gym is like doing yoga, which she practices. "I feel like in the way that yoga prepares a body for any eventuality that could befall you in life the Total Gym is the same concept. It is constantly stretching and strengthening." That, she says, helps prevent injuries.
Here, in a new Q & A, Christie reveals the eating habits that have kept her in great shape.
Shape.com: You're a vegetarian, is your whole family?
Christie: "I've been a vegetarian since I was about 12 years old. When I became a vegetarian I got my mom and dad to become a vegetarian, my brother became a vegetarian."
Shape.com: How do you typically eat?
Christie: "My main concept for eating and they've now caught up with me for many, many, many years I've always said I go for as many colors as possible in a day. That's my main concept for making sure my kids get all the nutrients --making sure they get the deep greens, yellows and reds and purples, all of that. That's just an overarching concept to the way I like to eat. Along with the whole idea of variety in exercise, variety in food with the colors. I like to vary what I have."
Article continues below advertisement
Shape.com: What about breakfast?
Christie: "A lot of mornings lately I will take a bowl and I throw some oatmeal right into it, I rarely have time to cook it so I just eat it raw. Then I'll pour some flax seed on top of that and maybe a little wheat germ, then I'll grab a couple of handfuls of blueberries, blackberries, raspberries and rinse them off, toss them in and then I pour one of those Dannon things on top stir it up and I always describe it, I've given this recipe to friend, it's like a really moist juicy muffin. It is so good. I feel like it is giving you a lot of good things for you. You can also throw in there a handful of walnuts."
Shape.com: You've never had McDonalds?
Christie: "Never. Never ever in my whole life. I've never tasted McDonalds or Jack in the Box, because I was a vegetarian before those ever existed. I've tasted one of their French fries, pure grease, and I've tasted one of their malts. Yuck. I don't even like the taste of it. I don't like the film it leaves behind on my tongue. It just doesn't feel good to me at all.
Article continues below advertisement
"Believe me I love a good chocolate chip ice cream. I'm not going to go for some lousy version of it. If I'm going to have it I'm going to have a really good one. I believe in treating yourself occasionally to something. But then keep other things in your fridge like those great Gnosis chocolates. They're like the healthiest chocolate that I know of that literally it is like taking a bite of anti-oxidants. It's got like Acai berries mixed in with this very pure cocas and you're really getting anti-oxidants and healthful benefits in each bite. They say it is anti-aging to eat that chocolate.
"Lunch is a big huge salad with every color in it. From leafy greens to purple to herbs, fresh cut herbs mixed into it for flavors. I vary what I toss into it. Sometimes it might be lentils and chopped tomatoes, other days it could be garbanzo beans, some days I might have just a salad and have some lentil soup on the side. Generally it's the big salad. Maybe it's avocados chopped on top. Maybe it's a handful of nuts and seeds and whatever.
Article continues below advertisement
"Dinner just depends. I always have to have some sort of pasta; it's more likely to get eaten by my kids. Whatever the rest of it is it usually starts with a pan, garlic and olive oil and then various things get tossed in there. So whether it's broccoli rabe, some sort of bean, a whole variety of vegetables. Whether I make a fish in the oven it is that kind of thing."
Read the rest of the interview on Shape.com.