EXCLUSIVE INTERVIEW: Christie Brinkley Reveals Her Workout Secrets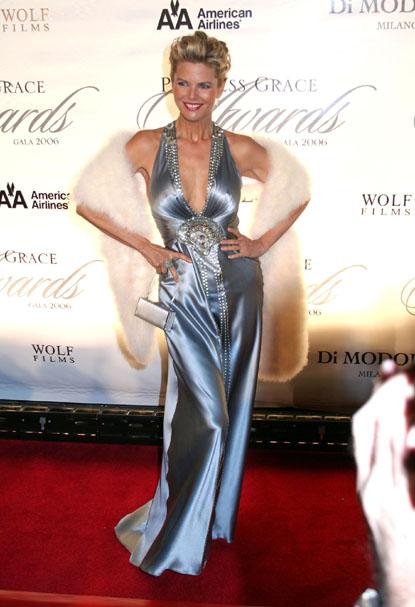 At 56, Christie Brinkley remains one of the world's most beautiful women.
In a new exclusive interview, the age-defying supermodel and mother-of-three reveals her workout secrets and how they keep her from getting bored or injured.
Speaking to Shape.com, Brinkley explains how age just doesn't fit with her self image and talks about her boundless energy.
Shape: At 56, you look amazing!
Christie: "My age has so little to do with my image of myself because at a certain point the number just didn't fit how I feel. You know? It has become irrelevant to me. I just don't feel like that number is representative of my spirit, of my energy or my anything!"
Article continues below advertisement
Shape: What do you do to get an amazing body like yours?
Christie: "I like to mix it up I like variety. I get bored if I do the same thing too much. The only constant that I have in my life is that I start whatever I do with my Total Gym because I believe it helps keep me from getting injured. I've had injuries in my life from things beyond my control, run away horses, helicopters that decide to crash on mountain tops, boating accidents -- things out of my hands...
"But when it comes to like tearing a ligament, running after a ball at tennis, that kind of stuff, starting on the Total Gym is kind of like doing a yoga routine. Which I also do yoga. I feel like in the way that yoga prepares a body for any eventuality that could befall you in life the Total Gym is the same concept. It is constantly stretching and strengthening. For each contraction it also stretches you out. I think that it's that constant stretching that kind of keeps you less prone to injuries."
Article continues below advertisement
Shape: How long do you work out?
Christie: "Whether I'm going to be going kayaking or play tennis or go for a run on the beach, I usually just jump on my Total Gym and do 15 minutes of my own little routine that I've developed that I slide through that gives me a little (workout for my) stomach, arms, my upper body, my lower body. Stretch, strengthen and then I'm out and about. Some of the things I like to do are kayaking, stand up paddle boarding, sometimes surfing, sometimes rafting, running on the beach, walking down the beach waving my arms, I call it swimming down the beach. Kind of silly looking but I don't care."
Shape: What do you do as exercise as a family?
Christie: "The parents were teasing me at the games last week. I was on the sidelines using the benches to do arm presses, using it like a step board and stepping up and down. Everyone was shivering on the side lines being really cold and I just used the bleachers doing step exercise and it helped me stay warm and I could watch the game and cheer them on."
Article continues below advertisement
Shape: What advice do you have for people staring a new workout so they stay energized, motivated and don't get hurt?
Christie: "I think variety is the spice of sticking with an exercise routine. Whether it's getting a dance tape one day, get a tape that might have those stretchy things to work with resistance for a different day. Arm yourself with a few different things. Get some friends to go jogging with or long walks with. Sign up for a dance class. I really think that by mixing it up it keeps it fun and that's really the only way that you can stick with it I think."