Girlfriend Of Beer Mogul Dies Mysteriously At His Home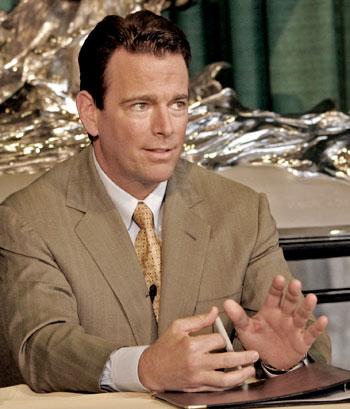 The 27-year-old girlfriend of August Busch IV was found dead at the beer baron's home in a mystery that includes no readily apparent cause of death, a days-long delay by authorities in releasing confirmation of the death and an unnamed police source telling the local paper that the investigation includes looking at a possible drug overdose.
Bush, 46, was dating Adrienne N. Martin for about a year, according to the Associated Press. Martin died Sunday at his St. Louis-area gated home and Bush was home at the time, various reports say.
Article continues below advertisement
Art Margulis, an attorney for Busch said that there was nothing suspicious about the death. But the St. Louis Post-Dispatch, which broke the story, reported that it took police several days to release information about the death.
There was no apparent trauma to Martin's body and no immediately obvious cause of death.
Martin was pronounced dead at 1:26 pm Sunday, according to the St. Louis Post-Dispatch.
Police are investigating the death along with the St. Louis County Medical Examiner. Autopsy results could take six weeks to complete.
Busch was CEO of Anheuser-Bush from 2006 to 2008, when the company was sold.
The Post-Dispatch details an interesting history of Busch's encounters with law enforcement, including Busch being acquitted by a jury on three counts of assault in 1985 after a high speed chase with police. That chase ended with cops shooting out one of his tires.
Article continues below advertisement
Busch was also investigated in the 1983 death of a woman when he was a student at the University of Arizona and crashed his Corvette. His passenger, Michelle Frederick died. The paper says that Busch was located at his home six hours later, dazed. He had a fractured skull and said he had amnesia. His blood alcohol level was below the legal limit.
He was not charged after a seven-month investigation but the Post-Dispatch says authorities had to fight the rich and powerful family's lawyers the whole way. Authorities "said the investigation took so long because of the "high profile" of the Busch family and because family lawyers had fought the taking of hair and fiber samples from Busch," according to the Post-Disptach.