Exclusive
EXCLUSIVE: We Had No Idea Bristol Palin Was Our Secret Buyer, Says Couple Who Sold Home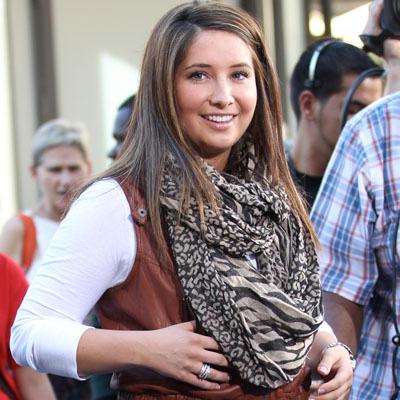 The couple who sold their home in Arizona to Bristol Palin was amazed to find-out that she was their "secret buyer," they told RadarOnline.com in an exclusive interview.
Martin and Cynthia Smith were fans of the 20-year-old when she performed on Dancing With The Stars before she snapped-up their five bedroom house in Maricopa for $172,000.
The 3,900 sq ft property is in a development called Cobblestone Farms which was built in 2006 and first purchased for $329,560.
Article continues below advertisement
Cynthia, who bought the home in February, 2010 for $137, 200 before fixing it up with her husband, told RadarOnline.com: "We were amazed when our realtor told us that Bristol Palin wanted to buy our house.
"Both my husband and I watched her on Dancing With The Stars and were fans of the way she acquitted herself.
"She has picked a beautiful home and it is in 'turn-key' condition for her and her young son to move into.
"The sale actually closed earlier this month and although we never met her in person we look forward to doing so in the future because we own another property in that area too."
It is still unclear what Bristol intends to do with her new property as there is speculation that she may enroll in Arizona State University's Walter Cronkite School of Journalism and Mass Communication.
But that would be dependent on her striking a deal with ex-boyfriend Levi Johnston – the father of their infant son Tripp – who still resides in Alaska.
Article continues below advertisement
Cynthia Smith, whose main residence is in North Dakota, told RadarOnline.com: "We honestly do not know why she decided to buy in Maricopa but if she does choose to live there she will find it a very welcoming place.
"The house that she bought is big enough to accommodate her family and friends and the locals are friendly but will definitely respect her privacy too.
"Plus the weather is a lot warmer than what she will normally be used to in Alaska but just like that state there are plenty of open spaces to enjoy also
"It is quite a remote place for Bristol Palin to have chosen, so, unless it is for a long term investment there must be some other reason.
"But both my husband and I look forward to meeting her one day and news of her buying our house has certainly put Maricopa on the map."