EXCLUSIVE VIDEO & PHOTOS: Bachelorette Winner Jesse Csincsak Escapes Unharmed In Car Crash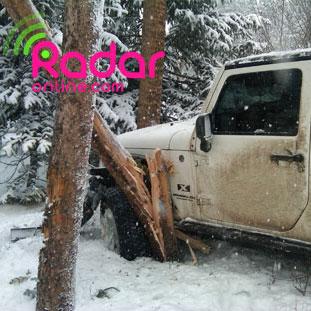 Bachelorette winner Jesse Csincsak is lucky to be alive after he drove his car off a Colorado road, dropped 10 feet and crashed into a tree, RadarOnline.com has exclusively learned.
"It was truly frightening and I am lucky to be alive," the soon-to-be dad told RadarOnline.com, in an interview.
EXCLUSIVE VIDEO: Bachelorette Winner Jesse Csincsak Escapes Unharmed In Car Crash
"I'm just so lucky that my wife Ann wasn't in the Jeep."
Article continues below advertisement
Ann, 28, is pregnant and due to give birth "at any minute" according to Jesse.
He hadn't changed the tires on his Jeep to prepare for snowfall, causing him to lose control of the car.
Jesse told RadarOnline.com: "I was coming down a unplowed 9% grade hill which is really f*cking steep. There was a car already in the ditch on the left and on the right. I saw a car at the stop sign at the bottom of the hill but I couldn't to stop.
"I pumped my brakes, dodged the cars and headed for a snow bank hoping it would slow me down.
"What I didn't know was that behind the embankment there was a 10ft drop which threw me and my jeep into the air smashing into a group of trees than falling to the ground." Jesse was told by the police at the scene that his aftermarket steel bumper that hit the tree and split it in half, saved his life.
EXCLUSIVE VIDEO: Watch 'Bachelorette' Winner Jesse Csincsak Get Engaged!
Article continues below advertisement
"If I hadn't had it, the motor would have likely been pushed into the passenger compartment crushing my legs," he said.
"The crash did $13,000 worth of damage to my car. It bent my front axle, cracked my hard top, it cracked my rim and cracked the oil pan for my transmission but I'm alive and here to talk about it."
RELATED STORIES:
EXCLUSIVE: Bachelorette Winner Jesse Csincsak Shows Off Baby Sonogram