Exclusive
EXCLUSIVE PHOTOS: 'Bachelorette' Winner Jesse Csincsak Shows Off His Pride And Joy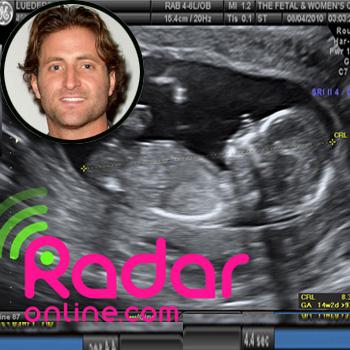 Last week, RadarOnline.com gave you an exclusive bird's eye view as The Bachelorette's Jesse Csincsak introduced his fiancée, The Bachelor's Ann Lueders, to his parents and showed them an ultrasound of their unborn child.
This week, Jesse goes into great detail about his first-hand experience transitioning from bachelor to expectant father -- and lets you see the ultrasound with your own eyes.
"Anne and I had been on two cruises together and she was visiting me in Colorado," Jesse told us exclusively. "She started throwing up and thought she had food poisoning. She was concerned she was getting sick. I drove her to the airport and I teased her about being pregnant ... her response was no way! She was thinking about it on the plane, and when she landed, she went straight to the pharmacy and got four pregnancy tests.
Article continues below advertisement
"She took them all and they were all positive," Jesse said. "When she called and told me, I was so excited. I told her how much I loved her, and how ready I was to be a father."
With that key information in hand, the pair traveled to Arizona for an ultrasound.
EXCLUSIVE VIDEO: Watch 'Bachelorette' Winner Jesse Csincsak Get Engaged!
"It was such an amazing experience. It was like watching a movie of your baby," Jesse told us exclusively. "The doctors looked at the baby and said it was the most active baby they had ever seen. We took the most hilarious pictures of the baby with his legs crossed and his hands behind his head.
"Ann and I both wanted a boy and when they asked if we wanted to know, the sex we both said 'Yes,'" he continued. "They announced there was no question it was a boy and we can't wait for him to arrive. We are so excited, we already have his name: Noah Csincsak."
EXCLUSIVE INTERVIEW: Bachelorette DeAnna Pappas Says Ex Jesse Csinscak Is "A Figment Of My Imagination"
The parents-to-be are slated to wed in Las Vegas August 28. They'll be the second couple from the ABC romance reality shows ever to have a Bachelor/Bachelorette baby, as Trista and Ryan Sutter (now parents-of-two) were the first.
"Anne and I were just meant to be," Jesse said. "We just knew we were going to spend our lives together."
Csincsak, a 28-year-old Ohio native, was engaged to The Bachelorette's Deanna Pappas, but the couple would wind up calling it quits. Lueders, a 26-year-old Arizona native, appeared on the 13th season of The Bachelor featuring Jason Mesnick.