Exclusive
EXCLUSIVE INTERVIEW: Bachelorette DeAnna Pappas Says Ex Jesse Csinscak Is "A Figment Of My Imagination"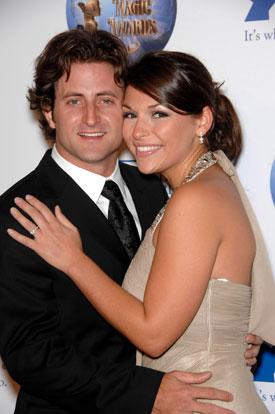 She might have found luck in love with high school teacher Stephen Stagliano, but former Bachelorette star DeAnna Pappas is continuing her war of words with her ex-fiancé Jesse Csinscak.
After RadarOnline.com investigated the real reason behind their 2008 split, DeAnna contacted us to share her own take on the end of their fairytale romance.
"Our relationship is over -- and done -- and I just want to leave it alone... he's a figment of my imagination," DeAnna exclusively told RadarOnline.com.
Article continues below advertisement
EXCLUSIVE VIDEO: Watch 'Bachelorette' Winner Jesse Csinsak Get Engaged
"Jesse is not the kind of person that I would ever want to be friends with. Our break-up was private and I will never make it public and he knows why it didn't work out."
The reality show couple called off their engagement barely four months after their high-profile television proposal.
And although the ex-lovers were polite to one another in the public spotlight, as RadarOnline.com revealed, their break-up was far from amicable.
EXCLUSIVE: The Real Reason Behind ' Bahcelorette' Break Up
But while both have new partners and are headed down the aisle, their split continues to make headlines.
But DeAnna, who met her husband-to-be at a party for The Bachelorette: The Men Tell All special last year, insists she is looking forward.
"Two years ago I was in a very different place and now I know what it's like to be loved unconditionally," DeAnna said.
Article continues below advertisement
"I always said he would eventually find someone to love and he has -- and so have I.
"I don't want to deal with any of this... Steven doesn't want to keep hearing about Jesse and I am sure Ann feels the same way and doesn't want to hear about me."
"This is supposed to be the happiest time of both of our lives and that's what I want.
"My life is so different now and I am in a really good place and I hope he is too."
VIDEO: Bachelorette Ali Gets Serenaded Three Times In One Show
There is no word yet on the date of Deanna's wedding, but she is reportedly planning double wedding for next spring that will also feature Stagliano's twin brother, Michael, who was on Jillian Harris' season of The Bachelorette, who proposed to Holly Durst, a former Bachelor contestant from Matt Grant's season.
As RadarOnline.com revealed, Jesse and his bride-to-be, Anne Lueders, are getting married at Rumor Hotel in Las Vegas -- the same place where they'll have a co-bachelor/bachelorette parties hosted by Jason Mesnick.