Exclusive
EXCLUSIVE: The Real Reason Behind 'Bachelorette' Break-up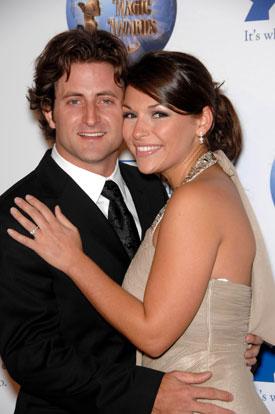 One-time Bachelorette couple DeAnna Pappas and Jesse Csincsak have both found love and are headed down aisle.
But DeAnna's recent stab at her ex-lover -- "Jesse and I are not friends... and we never will be" -- makes one wonder what really went down between the two, so RadarOnline.com investigated.
EXCLUSIVE VIDEO: Watch 'Bachelorette' Winner Jesse Csinsak Get Engaged
"Jesse was in it for the love, he wanted a future together in Colorado and she wanted to be a star," said a source close to the pair.
Article continues below advertisement
"But DeAnna used to say, 'All I want to be is the next Angelina Jolie.'"
The reality show couple called off their engagement barely four months after their romantic television proposal.
And although the ex-lovers were polite to one another in the media, their break-up was far from amicable.
VIDEO: Bachelorette Ali Gets Serenaded Three Times In One Show
After Jesse and DeAnna began their engagement in 2008 in Los Angeles, California, they soon moved to her hometown of Newnan, Georgia.
During the almost three month stint, the lovebirds were offered a whopping $750,000 for television coverage of their nuptials.
But that's not what Deanna had planned, dishes our insider.
"She wanted to be like Trista and Ryan and get a million dollars for her wedding, and when she realized that wasn't going to happen she was no longer affectionate," said our source.
The two handled the Hollywood break-up very differently.
Article continues below advertisement
While Jesse went onto YouTube and broadcast to the world a heartbreak confessional (and lost a total of 30 pounds in one month), DeAnna flew out to L.A. to accept a hosting position on a marriage-related show called Get Married on Lifetime Television.
EXCLUSIVE: The Secret Audition Process For The Bachelorette
There is no word yet on the date of Deanna's wedding to fiance Stephan Stagliano.
As RadarOnline.com revealed, Jesse and his bride-to-be, Anne Lueders, are getting married at Rumor Hotel in Las Vegas, the same place where they'll have a co-bachelor/bachelorette parties hosted by Jason Mesnick.