VIDEO: Bachelorette Ali Gets Serenaded Three Times In One Show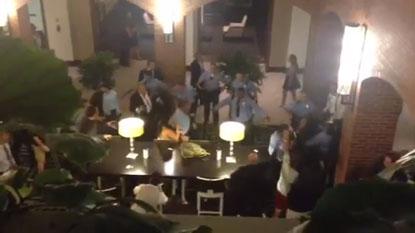 Ali Fedotowsky is this season's perky Bachelorette, surrounded by a whole house of hot guys in Los Angeles, so what did she do in the latest episode? She took them all on a whirlwind tour of New York City!
Watch the clip here on RadarOnline.com
Before the guys arrived, Ali was treated to a makeover by In Style magazine, and she learned the pictures are going to appear in the July issue.
Dressed in her new clothes, Ali started her New York dates by going on a one-on-one outing with Kasey. They took a helicopter around the city and he started off the date by saying, "If she doesn't give me a rose, I'll be crushed."
Article continues below advertisement
EXCLUSIVE INTERVIEW: I Am Bachelorette Finalist's Secret Girlfriend
In an incredibly awkward situation, Kasey serenaded Ali with a song he made up off-the-cuff. All she can do is laugh once, and when they're in the American Museum of Natural History, she said, "I get he can be a little cheesy, and he's singing."
Kasey then sang to Ali a second time, and told him that she isn't giving him a rose.
"Part of you doesn't seem genuine to me," Ali said about Kasey, before she told him she didn't want him to go home that night.
There is a group date that begins takes the guys to audition for what they think is a date with Ali, and they have to sing a song from the Lion King. Roberto is the only guy who sings directly to Ali, and he wins the challenge and the date, which is not a date, but a chance for the two of them to be on stage and part of the Lion King production.
Ali said, "I am 100% positive there is no on else I could have done this with but Roberto."
Article continues below advertisement
Roberto said, "We are starting to fall in love," foreshadowing the fact that he is one of the two finalists according to Reality Steve. However, at the end of the group date Ali didn't give out a rose.
Chris L. had a one-on-one date with Ali for his birthday, but she wasn't feeling well, so they started the date in her hotel suite. Chris L. shared the touching story about his mother's death a year and a half ago, and they called his father together for his birthday. At the end of the date, Ali gave Chris L. a rose.
As Joshua Radin plays a private concert for them with a gospel choir, Chris L. said, "She's my girlfriend now, I don't want to go back and hang out with a bunch of dudes."
In a shocking twist, Kasey got a tattoo to prove to Ali that he is sincere about his commitment to her, but tells the guys in the house that he burned himself and spent the day in the hospital. Justin didn't believe the burn story, and forced Kasey to admit he got the tattoo. Takes one liar to catch another liar, as RadarOnline.com reported that Justin had not one, but two girlfriends at home while filming the show and was only there to further his own career.
Article continues below advertisement
At the cocktail party before the rose ceremony Ali is again serenaded, this time by the weather man Jonathan. Ali gives him a hug but it unfortunately isn't enough to keep him there. Ali eliminates Jesse and Jonathan, but keeps Justin "Rated R" Rego and Kasey, but she still doesn't know about his tattoo.
For the next episode Ali is taking the guys to Iceland, right before the volcano erupts, and she says that she is destined to fall in love there.
The Bachelorette airs Mondays at 8/7c on ABC.