Exclusive
EXCLUSIVE: Teen Mom Amber Portwood Viciously Attacks Ex-Fiancé Again & Threatens His Girlfriend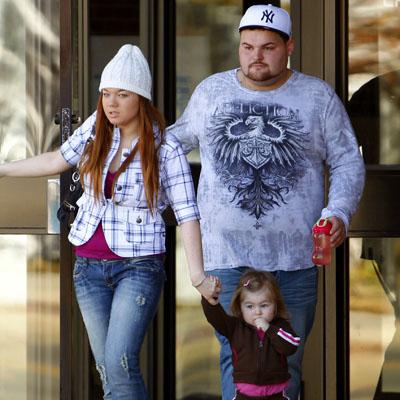 The tumultuous relationship between Teen Mom star Amber Portwood and Gary Shirley has taken another ugly turn.
RadarOnline.com has learned exclusively that Portwood physically attacked Shirley for the second time, even threatening his current girlfriend Ashley.
The incident happened Tuesday night after Amber decided to confront Gary after hanging out this his latest girlfriend, who Amber bonded with after she thought Ashley and Gary's relationship had cooled. The reality television mom wanted to make Gary admit to stringing both women along.
Article continues below advertisement
"Amber said Gary was sending her flowers and texting her, saying he hadn't been talking to Ashley," a source exclusively explained to RadarOnline.com.
"Once they got to Gary's house, Amber hit Gary for trying to play both of them."
However, the night soon turned uglier when Amber realized that Gary and Ashley were still an item.
"When Amber learned that Gary was still communicating with Ashley, she got in Ashley's face like she was going to hit her," the source added.
After Ashley took Amber outside to calm her down, the situation escalated once again when the three were stuck together since Amber accidentally locked herself out of her car.
Amber Portwood, New Boyfriend and Mom go Shopping for a New Car
In a bizarre twist, Amber again directed her anger towards Gary after he began criticizing Ashley for hanging out with his ex.
"Amber was standing up for Ashley because he was talking sh*t, saying he was trying to use her to make Amber jealous. Amber almost hit him a few more times because he was talking sh*t about Ashley."
Article continues below advertisement
The dramatic evening eventually had a happy ending. Well, sort of.
"He later called Ashley and left a long apology, but Amber was texting her all day with threatening messages like, 'Don't text me anymore for your sake.'"
Gary isn't the only one to have stepped back into the dating pool. Amber has been seeing mixed martial arts fighter Clinton Yunker.
RELATED STORIES:
EXCLUSIVE: Teen Mom Amber Portwood's Dad 'Not Concerned' About Her New Beau's Criminal Past