Exclusive
EXCLUSIVE: Snooki Reads Self-Help Book, Expert Rates Her Choice In Men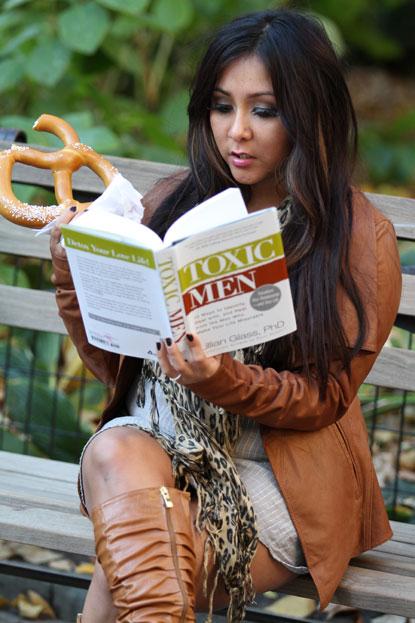 Jersey Shore's Snooki has had her fair share of ill fated romances, but seems to be trying to turn things around: RadarOnline.com has exclusive photos of the pint-sized reality star reading the self-help book Toxic Men.
We caught up with the book's author who rated Snooki's past slate of men.
"Snooki has been surrounded by toxic men in her life and this book will help her to put an end to those negative relationships," says Dr. Lillian Glass, the author of Toxic Men.
Article continues below advertisement
Glass discussed five of the men in Snooki's life starting with Mike "The Situation" Sorrentino who Snooki loved to kiss. She explained he was toxic and just not good for her.
"He is an emotional refrigerator, there is not a lot of reciprocal emotion and he just wants to have sex."
Glass also didn't approve of Snooki's long term giudo, boyfriend Emilio Marsella and explained: "He is a user. He used her for fame and then went and got a TV show which also shows he's competitive with her."
She then turned her attention to Jeff Miranda -- the guy who appeared on the scene and within weeks asked for Snooki's hand in marriage.
"He is also a user, another man seeking fame. If a man asks to marry you immediately it is a sure sign they are toxic."
As for Vinny Guadagnino, Snooki enjoyed climbing into his bed to smush on occasion and referred to him as her big brother.
"You don't sleep with your big brother as Snooki even stated. Vinny is questionable, but she'll learn from the book about body language which will help her separate the men who are truly into her for the right reasons," explained Glass.