Exclusive
EXCLUSIVE: Michael Lohan Blames Dina For 'Enabling' Lindsay In Rehab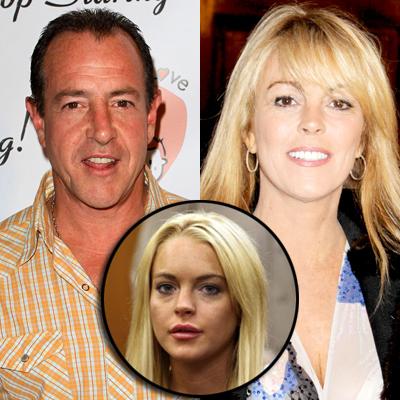 Dina and Michael Lohan are at war -- again -- and at the center of their latest feud are claims mom told Lindsay NOT to submit to a breathalyzer test after she clashed with a Betty Ford Center worker.
According to the fired staffer's incident report, which she wrote six hours after Lindsay allegedly attacked her on December 12, Dina told Lindsay that no-one had to submit to a breathalyzer test. The worker, Dawn Holland, says Lindsay repeated this, citing Dina, to Holland, as the incident grew heated.
Article continues below advertisement
"Dina made the mistake of being overheard telling Lindsay -- and the other girls -- not to take a drug test," Michael told RadarOnline.com, in an exclusive interview.
"It's enabling even in rehab. How sad. Are you kidding me? If this was all handled the right way, with honesty, none of this would have happened."
But there is no proof that Dina was overheard telling this to Lindsay. And even if Dina did tell Lindsay she didn't need to take a drug test or breathalyzer there is no solid proof Lindsay was drinking or using any type of drug.
As RadarOnline.com revealed, Holland, who worked as a chemical technician at Betty Ford, was fired after accepting cash-for-comment from TMZ, the entertainment gossip website, to speak about a violent incident with the 24-year-old actress. The Betty Ford Center released a statement Tuesday saying Holland was fired because she "violated strict confidentiality guidelines and laws by publicly identifying patients in a media interview and by disclosing a privileged document."
Article continues below advertisement
And in an upaid interview with RadarOnline.com Holland confirmed she had been paid to release that information to TMZ. "Yes ma'am," the ex-staffer replied, when asked by RadarOnline.com if she was paid to speak out about the incident.
"I'm not going to say (how much)."
When questioned further if "it was somewhere between $10,000 and $15,000", Holland admitted: "If I give you a ballpark then... well, then... yeah (it was between $10K and $15K)."
It is not known if the Holland and/or TMZ will be prosecuted, however, Michael told RadarOnline.com he had already sought legal counsel for a potential civil suit.
"Lindsay could sue the Betty Ford Center for millions of dollars," he said.
"For this woman to speak publicly and break a patient's confidentiality is unheard of in the rehab and medical field.
"This is a big, big issue and it's an open-and-shut case: one of their people spoke out and that's that. Bottom line, you can't do that.
Article continues below advertisement