Exclusive
EXCLUSIVE: Lindsay Lohan Stuck In L.A. For Christmas; Dina Wants Her Home In NY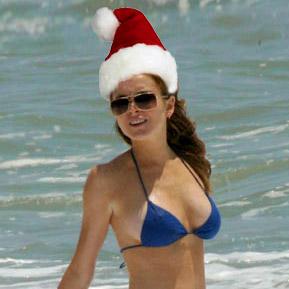 Lindsay Lohan will be spending the upcoming Christmas holiday in Southern California, RadarOnline.com has learned exclusively, though it's still unclear who she'll be surrounded by.
Her mother Dina "wants Lindsay to go home to Long Island for Christmas, but that won't be happening," a source with knowledge of the situation told us. "Judge Elden Fox was very clear with his order that he wanted her to stay in rehab until after New Year's."
Article continues below advertisement
Our source said the 24-year-old Mean Girls star has excelled in her sober living facility, even earning passes to leave the sober house for shopping excursions and visits to her Los Angeles home.
Still, "Lindsay won't be allowed to leave the state of California for Christmas, period," according to our source. "It was never a consideration for Thanksgiving and it won't be for Christmas. Dina wants her home, but Michael is supporting whatever Lindsay's treatment team is recommending."
The holidays can be a cause for concern, according to our source, with "all of the angst, forced familial time and dealing with recovery. Mix in parents that don't get along and Lindsay is going to be tested -- and that isn't a bad thing."
Lindsay and her treatment team are confident that the actress will be able to get through the holiday season without any setbacks, the source said. While they want Dina and her siblings to come to California for Christmas, lingering tension between family members may throw a roadblock toward such a reunion.
Article continues below advertisement
"Dina hasn't agreed to be anywhere under the same roof with Michael," the source said. "Lindsay's counselors recognize that family is very important to Lindsay and they are really hoping to get the entire family under one roof for some much needed family therapy. Michael has agreed to do it. So far, nothing from Dina indicating she is even considering it."
Lindsay could earn a pass to spend Christmas Eve or Christmas Day out of the sober living facility if she gets the OK from her treatment team, according to our source.