EXCLUSIVE: Jayde Nicole Settles Nightclub Attack Lawsuit With Joe Francis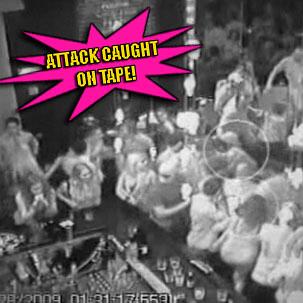 Playboy Playmate Jayde Nicole has settled her lawsuit with Girls Gone Wild producer Joe Francis after she accused him of attacking her in a nightclub, RadarOnline.com has exclusively learned. You can watch the security camera video of the attack here.
The pair -- who were embroiled in a bitter battle with both parties suing each other -- have settled in an undisclosed financial deal and walked away from their legal drama.
Article continues below advertisement
WORLD EXCLUSIVE VIDEO: Joe Francis Attack Caught On Security Video
But Nicole is still reeling with anger at her former boyfriend, Brody Jenner, who wrote a letter to Francis insisting the incident, which was caught on tape, never happened.
"Jayde is infuriated by Brody's comments," a close source to the 24-year-old beauty told RadarOnline.com.
"She is angry that he is trying to deny the fight, even though the video speaks for itself."
On the night in question, Nicole said Francis pulled her hair and punched her in the face.
At the time, Brody was dating the beauty and ended up getting tasered.
He was also suing Joe Francis for assault, but settled on the condition he wrote a letter apologizing to the Girls Gone Wild founder, RadarOnline.com has been told.
"I would like to acknowledge for the record that media reports that you beat up Jayde Nicole that night were completely inaccurate," he wrote in the letter.
Article continues below advertisement
"I have always known you to be a gentleman and I'm very sorry that you were wrongly accused that night."
VIDEO: Joe Francis Denied Entry To Voyeur Nightclub
But Nicole is fuming her one-time lover rolled over so easily.
Our source said: "While Nicole is happy that this is over once and for all, she feels she would never have placed herself in a situation where she had to write a public apology like her former boyfriend did."