Exclusive
EXCLUSIVE INTERVIEW: Scorned Hooker Says Baseball Legend Lenny Dykstra 'Thinks He Can Treat People Like Crap'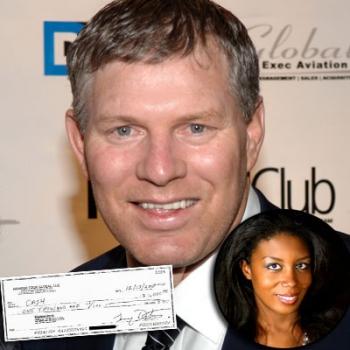 Porn star Monica Foster, who's accusing Lenny Dykstra of bouncing a $1,000 check to her for escort services, tells RadarOnline.com the baseball player-turned-businessman "is a coward" who "thinks he can just treat people like crap."
EXCLUSIVE DETAILS: Porn Actress Says Baseball Legend Lenny Dykstra Stiffed Her
We spoke exclusively with Foster about her run-in with with the ex-baseball great -- and the chain of events that unraveled.
Article continues below advertisement
Article continues below advertisement
"I have tried to get him to pay me after his check bounced," she said, after posting a copy of the check online.
Foster said she tried to contact Dykstra over and over again via text messages and phone calls, but he evaded contact with her on multiple occasions.
"I am not going to try to contact him anymore," she said.
"He gave me a fake name when I met him, and eventually came clean as to who he was, because he wanted to seem impressive... if I had known who he was I wouldn't have gone with him. He is in so much financial trouble."