Exclusive
EXCLUSIVE INTERVIEW: Lindsay Lohan Deeply Hurt By Gwyneth Paltrow Mocking Her, Says Dina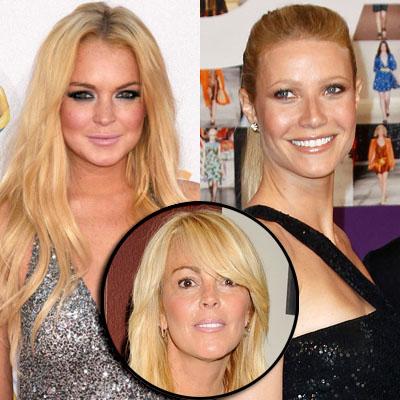 Lindsay Lohan is deeply hurt by Gwyneth Paltrow mocking her on national TV, Dina Lohan told RadarOnline.com in an exclusive new interview.
Paltrow recently appeared on Glee and played a Spanish teacher who taught a lesson that included asking the class: "Lindsay Lohan is totally crazy, right?" And, she then quizzed the class in Spanish, "How many times has Lindsay Lohan been to rehab?"
Lindsay was watching the hit Fox show while in the Betty Ford Center and was devastated.
Article continues below advertisement
"Lindsay is so upset with Gwyneth," Dina Lohan told RadarOnline.com.
VIDEO: Gwyneth Paltrow Pokes Fun At Lindsay Lohan On Glee
"Lindsay was watching it while in Betty Ford, then she called me and was upset and said, 'Why did she have to do that?'"
According to Dina, Lindsay thought the two movie actresses were friends and was shocked by the cruel jokes she made about her during a very difficult time in life.
"We are the first to make fun of ourselves in our family," explained Dina.
"And Lindsay has even done SNL a few times, but Gwyneth went overboard and it was unecessary."
This isn't the first time the Mean Girls star has felt victimized by ridicule. Lindsay claimed the stock trading company E*Trade violated her rights by featuring a baby character named Lindsay in their television commercial ads. The baby was a "milkaholic" other woman in a baby love triangle.
Article continues below advertisement
The E*Trade case was settled in September, less than a month before Gwyneth's stint on Glee. Although this situation won't end in court, it certainly has affected a friendship.
"Lindsay thought she was a friend and it was disappointing," Dina told RadarOnline.com.
"It was really hard for her to watch... it was hurtful not funny."
Lindsay is expected to complete her rehabilitation at Betty Ford on January 3, 2011 and Dina has plans for a fresh start for her daughter.